Instead of catching up on my ginormous backlog, I have been rewatching parts of
Personal Taste
ep 10 and taking come caps. I am not even in the mood to watch anything else, no matter how good. I just want to wallow in PT.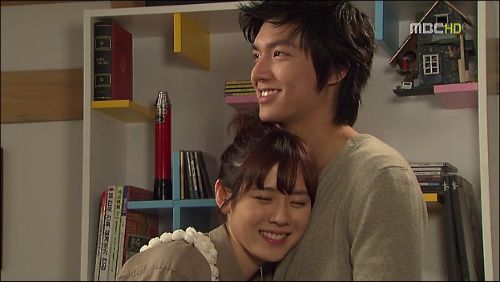 I am
obsessed
with this drama. OBSESSED. It is definitely my drama of the spring season to me - by now I have achieved this absolute emotional immersion that is my goal in drama watching but doesn't happen all too often. I get incoherent, I get giddy, and rageful, and happy, and sniffly. Perfect, perfect.
Especially ep 10 which was such an emotional hothouse - yes, I love dramas because they turn me into an emotional vampire. MMMMM.
( Some thoughts and caps of ep 10 )
Of course, all this rewatching forced me to confront the fact that I will never get through my backlog - i.e. there is no way I can keep up with 8 airing dramas. It's not doable, especially since Kimura's
Moon Lovers
(Tsuki no Koibito) starts next week and there is no way in hell I am not following that one as it airs. Nine airing dramas? No way.
So some major pruning is occurring:
Keeping for Weekly Viewing:
Personal Taste; Prosecutor Princess; Sunao No Narenakute - These three dramas I am obsessed about. I am not giving them up for anything.
Oh My Lady - OML is easy to keep up with since I skip all the scenes not involving the OTP or the cute kids. I am not as in love with it as I am with the three up top but it's fun.
Keeping, Maybe:
Yankee-kut to Megane-chan - subs for this are irregular so I am considering just waiting until it's done. But will see.
Dropping:Down with Love
- let's face it, I am 10 eps behind, the drama is almost done, I might as well wait until it's all done and marathon. Especially since I prefer downloadable subs to viikii ones for this so I can ff through parts that do not interest me and those subs are rather behind so it will be a while until they will be completed.
Dong Yi:
- I am 6 or 8 eps behind (depending on whether you count raws or subbed). I might as well give up for now. Once the spring drama season is over, I can catch up and DY is so long that it will still be running then and once I catch up, I can just join the weekly watching again.
Cinderella Unni:
I am less than 3 eps behind which is nothing but I don't
want
to catch up. All the main characters seem to have become permanent residents of Miseryville which wears down on one after a while. I have made a discovery that while I can watch most other genres as airing dramas, I cannot do it with melodramas. I prefer to have all my angst-emo-melo in one big, controlled by me, gulp and not in weekly dribs and drabs (see Will It Snow at Xmas, another excellent melodrama, that I tried to follow as it aired, had to give up, but really enjoyed marathonning after). So I'll catch up with CU once it's done.