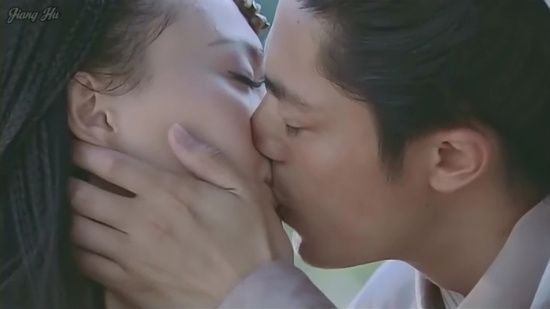 I admit that most of
Chinese Paladin 3
makes my brain leak out of my ears and I remain pretty indifferent to the main OTP. But the secondary OTP - ah, the secondary OTP is sheer perfection. Grown-up and angsty and forbidden and heroic and just ... aahhhhhhhh.
We finally got their back-story (well, half of it) when the elders opened Warrior Priest's cealed memories from past lives (yup, his and Snake Girl's lurve was so strong, he would have remembered it despite reincarnation) and - OMG!
( The cutest first meeting ever and other adorableness )
And it would have all worked out just fine except for idiot priests!
Argh!!!! WTF is wrong with you, priests! Seriously!
If one of your disciples decided he wants to ditch and not become a priest but instead get married to a girl he's in love with, I have no problem with you preaching at him how love = illusion blah blah blah.
But if he still wants to ditch,
let him go!!!!!!
I don't think intercepting his and his OTP's letters and then lying to him she died is a proper way to get someone to join priesthood!
( See caps )
That's coercion and lying and evilness and somehow I think is against your wows! Ugh. Die please, and quickly. WTF is wrong with you, this is not how you get someone to join your freaking sect!!!
Oh, and when he finds out you lied and tells you he's leaving with the woman he loves, I don't think you are supposed to send out a posse to catch them and make "the witch pay for her crimes."
( Reunion awesomeness caps )
He's of age, he can do what he wants, including quit your psycho sect, especially since you tricked him into joining in the first place.
Hooray for you, you got them to commit double suicide. And you still lost a disciple, morons! Ugh, die yourselves.
( Tragic and shippy and perfect. I hate you, idiot priests! )
These monks are about as righteous as monks in Return of the Condor Heroes. Ugh.
( Main OTP caps for those thus inclined )