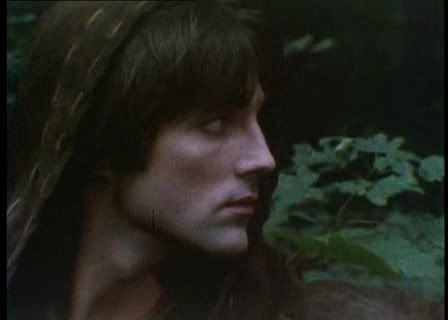 If I were to think of something that shaped my preferences in fiction probably for the rest of my life, the BBC series
Robin of Sherwood
is very very near the top. I was seven when I first saw it and I was a goner. I spent the summar playing "Robin and Marian" and was fixated by the story. On a more shallow note, I wanted to have an outfit like Marian's :) They replayed it when I was 13 or so and I loved it even more. And finally, I got my hands on the DVDs a few years ago, half-excited and half full of trepidation. So many things I thought were wonderful in my childhood turned out not so when seen through adult eyes. What if this was going to be another one of them?
Luckily for me, this was not to be. I loved RoS even more as a grown-up (and yay, Mr. Mousie liked it too). But what struck me even more was how many of my fictional tastes (not to say kinks) seem to have first been discovered by me via RoS, when I didn't even know that's what I liked. Everything, from a rebel against the system (and an angry hero) and a strong heroine to hurt-comfort and men with medieval weapons and angst. I am forced to conclude this RoS was responsible for all of this :)
Oh, and yeah, it was probably also the start of my unreasonable devotion to fictional characters. Even without the excuse of emotionality of childhood, on rewatch, I cried so hard at the end of S2, Mr. Mousie had to get a kleenex box and comfort me. And I confess I never watched S3 because I don't think I ever got past the trauma. Yup, I am a wimp.
Anyway, this is a long-winded way to say that I've started rewatching RoS and plan to post my thoughts and caps on it as I go along. Oh, how I love this series! The fact that Michael Praed is one of the most handsome men I've ever laid eyes on doesn't hurt. I really really recommend it. Provided 80s-type haircuts on ladies don't bug you, this is perfect. It's my favorite take on Robin Hood in any media, and I have never yet seen (with the possible exception of Hong Gil Dong) a take that is that unflinching about hopelessness of that world and lack of glamor, and yet the necessity to fight on even when you know it's hopeless.
( Caps and thoughts )
And then I went to bed, but not before posting above.
And not related to anything above, but here is one of my favorite songs ever.