I found this wonderful
Tokyo Juliet MV
(can't embed it) and now I have this huge yen to rewatch it. Seriously, just watch that MV!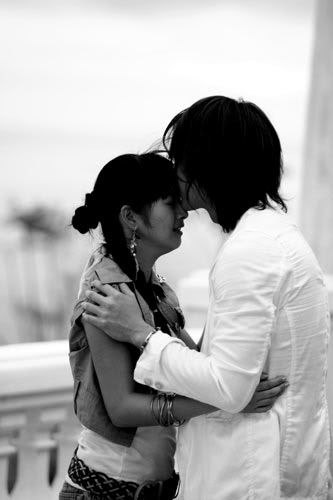 TJ was one of my earliest dramas, one I followed as it was being subbed, and actually was the one which made me learn downloading - there was no way I could be satisfied with watching on youtube. I had had had to have it for my own. Objectively, it's not "good" but it's a hella entertaining, shippy, funny, and pretty. Also, wins any competition of "most kisses per drama" competition hands-down (with only They Kiss Again as a close contender). I was fairly new to dramas at the time and I didn't realize what a rarity that was.
So, what is TJ? A Taiwanese drama (based on a manga) starring Ariel Lin as Sui and Wu Zun as Liang, our drama's star-crossed lovers. Set in a world of fashion, the story follows the trials and tribulations of our protagonist, Sui, as she attends fashion school after deciding to become world's most famous designer, her vendetta with a famous, established and evil designer Chu Xing who stole her design, her mother, and is just generally evil, and oh yeah, her star-crossed OTP with Liang, another design student (who is shockingly a straight male!) who is her childhood OTP. Oh, did I mention who his father is? Yup, the aforementioned evil designer guy. It's shockingly less angsty than you'd expect with this set up, in fact it's rather fluffy instead but with yummy delicious nuggets of angst interspersed throughout. It gets a bit repetitive in its pattern sometimes - Liang and Sui are happy, an OTP interloper (of either gender) appears or his father schemes, angst, then they triumph, lather rince repeat, but it's entertaining anyway and full of cheesy goodness.
So, why watch? As I posted earlier - the premise of the thing (Sui is a genius college design student trying to make it to the top and get revenge on the evil designer who stole her design and broke up her family) is a fun, soapy bit providing some delicious cheesetastic crack, but that is not why I love it. The real story (and TPTB thankfully understand it as much as we do) is the gorgeous, angsty-happy OTP Sui has going with Ji Feng Liang, my one-time dorama boyfriend, and the estranged son of Sui's nemesis.
Sui/Liang is not only one of my OTPs, but they are also probably one of the healthiest OTPs I've seen in a drama (or anywhere). They fall in love with each other at the start, get together early on and stay together. They have ups and downs, temporary fights or setbacks, potential interlopers in the relationship and of course his evil father, but the OTP itself is so shockingly normal, surprisingly real. If they have problems, they talk about it and don't let misunderstandings pile up. They laugh and play around as much as they angst. The dorama is full of little real moments that make me go 'couples SO do that.' I can really see the two of them spending the rest of their lives together, and feel their everydays together, not just not able to imagine them outside the confines of the story.
It is also one of the more feminist dramas out there. Liang loves Sui precisely because she is so professionally driven and he is proud of her every success. Told you he was my one-time drama boyfriend! Add to it the fact that Wu Zun who plays Liang is drop dead gorgeous, that it's Ariel Lin being adorable, that he towers over her (kink!!!), that they have psycho chemistry and that there is plenty of kissing and I am set.
All that, and a sex scene involving handcuffs (on him). What are you waiting for? :)
ETA: here is a MV I can embed: