Yes, this is the ep with the Great Hair Transformation, wherein Hiro goes from this: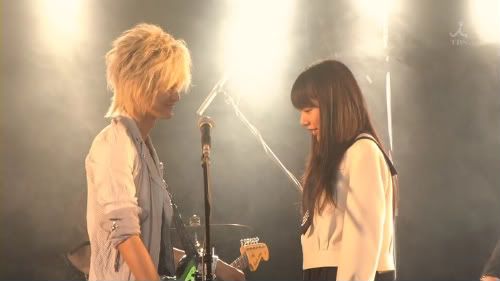 To this:
While simultaneously maintaining his ideal boyfriend vibe.
In today's installment of
Koizora
we have teen pregnancy, rock concerts, miscarriages, and cancer. And snow babies.
I think we have everything but the kitchen sink in this drama and I am sure the latter will appear in ep 4. Leave some plot for the rest of Japan!
( Koizora ep 3 caps and comments: the craziness continues )
Not connected to anything of the above but I've been listening to this song all morning:
Yes, I confess. Despite my dislike for JE and their bands, TOKIO is the only exception. So far, I've liked every song of theirs I've ever come across. It helps because they are pretty close to my concept of what a band is supposed to be: playing their own instruments, singing on-key, and looking over 12. Isn't that rather un-Johnnylike? :) I am not big on elaborate staging and floorshows and on-stage fanservice never was my thing so if that is the only thing a band has going for it, I am going to check out (and if they have a lot of it during singing, I am going to check out anyway, because so not my thing). I mean, it's amusing to watch MatsuJun juggle torches in a shiny outfit while performing, but my concept of what I consider music it is not.