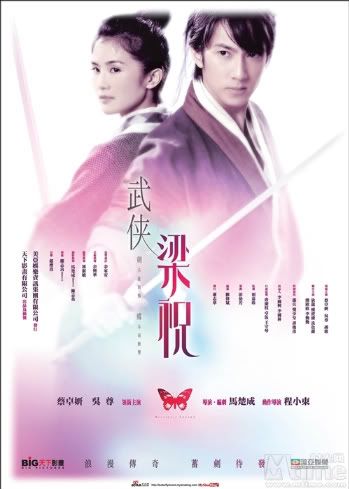 Yes, China is making yet another version of the famous
Butterfly Lovers
story, which is...well, let's think Romeo & Juliet with swords and cross-dressing. The bare bones of the plot are such: our heroine cross-dresses as a man, in order to experience the ability to learn and the freedom which she could not have as a woman. While studying, she became best friends and fell in mutual love with a fellow (male) scholar but marriages are arranged, not picked by the children...
Here is a MV which looks like a pretty good trailer:
The cast is Charlene Choi (as the heroine), Wu Chun (as her OTP), and Hu Ge (as the other man, chosen by her parents). I am v.v. excited. It looks gorgeously filmed, plus I am a total sucker for period movies, especially if they have tragic love. Wu Chun is no next Tony Leung but he is insanely pretty, and the same is true for both Charlene Choi and Hu Ge.
So bring it on!
In completely unrelated bit of news, I spent an hour or so at B&N yesterday, browsing, and ended up with a whole bunch of Alexandre Dumas books which have either only recently been discovered or have been out of print for a long time. Yes! Right now, I am reading
Knight of Maison Rouge
, set in 1793. I confess to being amused by the hero, who is heroic, attractive, and loyal, and also as dumb as a box of bricks.