So yes.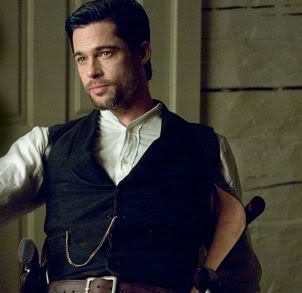 Yesterday, Mr. Mousie and I went to watch
The Assassination of Jesse James by the Coward Robert Ford.
You'd think that going to see an almost three hour movie that starts after 10pm is a bad idea but tired as I was, I remained bolt awake throughout, and in fact, was just left sitting stunned after he movie ended. It's not often that I have that weird feeling, once the movie ends, that is an equivalent of almost being startled, waking up to the world you forgot, but Assassination gave me that feeling.
The movie deals with the last year in the life of Jesse James, a notorious 19th century outlaw. Jesse is 34 and his old gang is gone: dead or in prison, and his glory days are behind him as he is increasingly erratic, paranoid, and suicidal. He alternates between his Jesse James existence and his life as Thomas Howard, a respectable businessman with wife and kids (apparently a true fact, though totally mindboggling. His wife knows who he is, but the kids don't). But this movie is also as much, or more, about Robert Ford, the unease-causing, desperately worshipping young gang member wannabe, whose desperation to be Jesse James and desperation to be
anybody
leads him to the murder of Jesse.
First off, it's a gorgeously filmed movie: leached colors (significantly, we start in the summer, and continue through fall and winter. These characters never see spring again), distortions through reflected surfaces: window panes, picture frames, ice. A fish-lens effect, occasionally, as if looking through an old camera. When I remember the movie, I remember a series of still images: Jesse's daughter's shoe, lying forgotten in the mud, cans of peaches in the store where Bob Ford works, Jesse's still figure on the ice, shooting at his own reflection. It's one of the most beautiful movies I've seen, even if it deals with rather ugly people.
This movie has its own pace and it's a remarkably quiet movie: there are no adrenaline rush gun battles here, not really. This is both a strength and weakness: unless you get into the characters' heads, this is probably boring. But I did and it was beyond grabbing because above all, this is a character study of incredibly fascinating people. None of them are good people, but they are incredibly complicated. I have to give the movie huge points for not making it simple. For not making Jesse a messed up but good outlaw and Bob a snivelling weak groupie. Or alternatively for not making Bob rather good and Jesse someone who deserved to be wiped out.
( This is long so behind cut )