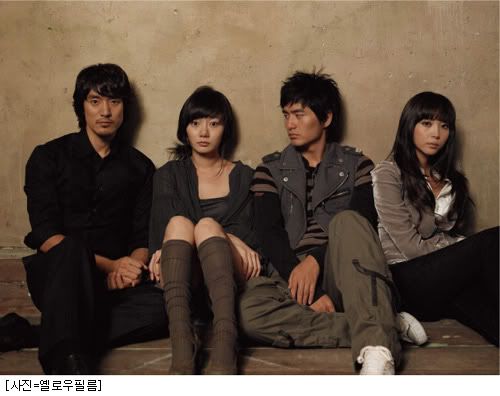 Candidate N4 for "Top 10 Most Underrated Dramas" is perhaps the most underrated drama on the entire list - cable kdrama
Someday
, starring Bae Doona, Lee Jin Wook, Kim Min Joon and Oh Yoon Ah.
When she was 17, Hana (Bae Doona), a Korean brought up in Japan by her grandmother, won a prestigious award and was launched on a career as a popular manga artist in Japan. The same day Hana was launched on her path to popularity and fame, Seokman (Lee Jin Wook) was having the worst day of his life -- he and his family were involved in a car crash, leaving him the only survivor. Fast forward three years or so and the paths of Hana, now a well-known mangaka who is facing a creative draught, and Seokman, now a sort of a missing-persons detective, are about to collide.
Being a cable drama, not that many people have seen it and it's such a pity - this one is on my Top 10 kdramas list of all time for a reason. There are so many reasons as to why this deserves to be better known - its delicious off-beat vibe - this is as if Korea tried to do a jdrama with its realistic feel and its meditation on life but retained its own strengths of romance and suffering and gorgeous cinematography. Its love story, which made me cry and cry and then grin like a lunatic and hug my pillows - it's so unexpected and sneaks up on you and then grabs and refuses to let go. Its stories of alienation and connections and families lost and found and made. Its laid-back charm which lures you in until you, all relaxed, are whacked with the darkness at the core, and are left gasping for breath (full disclosure - this drama made me cry more than once).
It is also a chance for you to see actors who do not often get leading roles actually be allowed to show their chops. The always sublime Bae Doona is well...sublime, as the quirky Hana who has locked her capacity for warmth and caring far away due to childhood loss - when the story starts she is almost an alien dropped among those weird humans - curious, exploratory, and oh-so-different. One of the biggest pleasures of the drama is to watch her learn to become fully human - to feel compassion, to feel love. Lee Jin Wook is one of my huge crushes and I was madly excited to see him get a leading role at last. And he doesn't disappoint, playing his character with so much sweetness that you get lulled into a false sense of security and don't realize just how much damage and despair Seokman has inside, until you are confronted with it, and then go "of course - it all makes sense now." His chemistry with Bae Doona is just so pitch-perfect - their whole relationship is so full of discovery and hope and tentativeness for both of them. You can't help but root for these two very damaged people to work it out and heal each other. She has no emotions but he has no hope or self-worth - and the biggest pleasure for me was to watch both of them recover what they lack. The drama Someday reminds me of most is my favorite twdrama,
Mars
- the two horribly damaged protagonists with vastly different coping mechanisms make each other better. It goes dark sometimes, terribly dark, but ultimately it's the story of new beginnings and of hope.
Kim Min Joon and Oh Yoon Ah are not secondary characters in this - every member of the quartet (and they are not really a love quartet in the usual sense) is equally important. If Hana and Seokman are horribly wounded children, both KMJ and OYA play grown-ups. If you are expecting a typical evil secondary girl, you are in for a disappointment. OYA's Hae Young is the sanest, best person in the quartet, and the one most in touch with her feelings, which include her unrequited love for her best friend Jin Pyo (KMJ). And speaking of Kim Min Joon - he plays perhaps the most controversial character in this - a psychiatrist who gloms onto Hana as a representation of his fanboy fantasies, not a real woman (he does not get to know the real Hana the way Seokman does) and who is the one most in control and delights in manipulation. But I ended up liking him nontheless - in a way, he was caught in a bubble as much as Hana was, only this bubble was of his own willful making.
My favorite scene? Because I am a sadist, it's the sequence leading to Seokman's suicide attempt (it's either that or he gets done in, due to the debts) - his counting how many minutes he has left and getting his math wrong, his visiting the hospital and tying up all the loose ends, his scene on the river bank with Hana, his suicide attempt itself, when he walks off limping and muttering "stupid stupid stupid" not able to think of anything but that he failed.
Favorite quote (Seokman to Hana): "I can't breathe because my heart is filled with thoughts of you. I love you. I love you. I love you. I love you. I love you. I love you."
Have a MV: