I have decided that from now on, every teenybopper Hollywood movie must be made by Koreans.
Take this plot: a new girl transfers high schools from a small town to the big capital in order to live with her mother whom she hasn't seen for a while. She finds out that the guy she liked all through middle school has forgotten her and hooked up with a skanky girl, she discovers a friendship with her spunky half-sister, and becomes the center of a love triangle with the most popular boy in school and the charming leader from a rival school vying for her.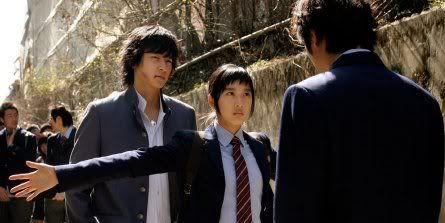 So far, so good, right? Typical teeny stuff.
And there you have
Temptation of Wolves
. Except…not quite. Being Korean, ToW is a teeny movie that also has:
1. A romantic story involving sibling incest. That is a viable romantic story that works.
2. Highly choreographed, fluid, and brutal fighting matches headed by the two love-rival guys who are actually respective gang leaders in their schools.
3. Tragic death and improbable medical procedures.
4. Motorcycles.
5. Hot guys on motorcycles.
6. Piggyback rides.
7. Rampaging elephants.
Well, maybe not the last, but that's only because they were all out filming
Jodha-Akbar
.
Seriously, ToW has to be seen to be believed.
( Pictures from Temptation of Wolves )