Had an awesomely Bollywoody day yesterday, and went to see
Om Shanti Om
which was fabulous, and about which I'll make a separate entry. And then

filmi_girl
and I had the best evening, watching
Bobby
and otherwise Bollywoodly hanging out.
But this isn't about that. This is about my starting to watch the most awesome thing in existence: BBC's
Shakespeare Retold
series.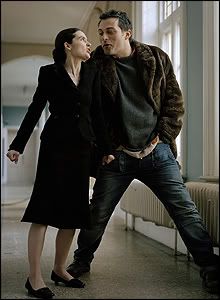 Mr. Mousie and I just finished the first of the bunch,
Taming of the Shrew
, with Shirley Henderson playing Kate, the super-shrewish MP, trying to become opposition leader, and Rufus Sewell (OMG) as this version's Petruccio, a deeply exxcentric, cross-dressing aristocrat. OMG. I am totally in love. It was hysterically funny, sharp, brilliantly updated, and (I never thought I'd say it of any TotS version) deeply romantic. Normally, even as I laugh at TotS, I find Petruccio's methods horrid, and the whole subjugation of women story and ending really not appealing. But this TotS is not about breaking Kate or anything of the sort. It's really about behaving a bit better, in general, and about allowing yourself to love someone despite their flaws, and weirdnesses, and screaming fits (hers) or a penchant for heels(his).
( spoiler for this )
The OTP in this one just ends up fitting, even if no one else sane would want them, and are so off-kilter awesome together. And of course, she is the MP, the public face etc, and he is the house-husband. It's freaking awesome.