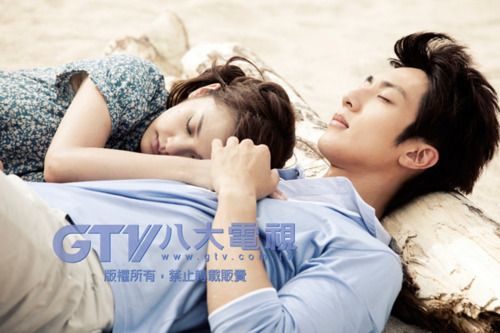 I believe I may be the only person on my friendlist who has watched
Sunshine Angel
, the currently-airing twdrama with Wu Zun and Rainie Yang.
YOU GUYS MUST REMEDY IT ASAP!
I have only started it today - but I have watched 9 episodes in one day (!!!!). It takes a few episodes to get going but at some point by ep 4, I realized I was madly in love with this romantic, warm, sweet drama.
The story of a plucky cheerful maid (Rainie) and a reserved, perfectionist CEO with issues (Wu Zun) is nothing that hasn't been done before - in fact, this seems to be a remake of the Successful Story of a Bright Girl kdrama (or so I've been told, haven't seen the kdrama in question myself). But what makes this story a delight are the sharp colors, the fast pace and the out-of-this-world chemistry between Rainie and Wu Zun. It also helps that both have an immensely likeable on-screen vibe and play likeable characters. And, as is de rigeur in twdramas, there are some swoonily romantic moments. The one in the cap above is one of them. My favorite scene so far though is the one where he tells her about his parents dying rescuing him and how he doesn't believe in permanence any more (and OMG, I realize that he went into the water to rescue her despite this triggering his biggest issues).
Btw, she is only a maid for the first half of the drama, if that is an issue...
Will this drama change your life? Likely not. But it's a lovely story about lovely people, and a perfect way to while away a rainy afternoon.
KizunaFS has picked it up. However, I don't believe they released any subs as of yet so the best way to watch it is on youtube, where an awesome user has
subbed the first 12 eps so far.
Trust me, it's worth it!
Have a MV:
I defy you not to give this wonderfulness a chance after this MV.