Snow Queen
. I have just finished ep 5 and starting with ep 6 my DVD subs went wonky. Boooo. So the choice is either to watch DVDs with crappy subs or dl with excellent ones. So I dled. Not fond of it but oh well. I am definitely getting the YA DVDs when they release but no way can I wait that long to continue.
( spoilers through ep 5 )
Hmmmm. In other 'upcoming drama' news, I am mildly interested in the kdrama
Thank You
which started today. Not as much as in the other three that start in March: The Devil, Que Sera Sera, and Hello Baby/Hello Miss, but still. The plot involves a pricky surgeon and a single mother whose child has AIDS because of a blood transfusion. It's being subbed, too. Hmmm. I might check it out, though not too sure…I've seen the female lead before and liked her and I am always fond of doctor protagonists ;)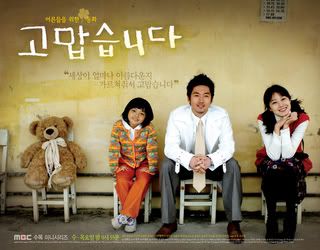 Oh, and how could I forget? Have I mentioned that the fact that there is a kdrama, namely
Love Story in Harvard
which is a totally typical kdrama in every other respect: love quadrangles, angst, rich people, weeping but it is set in Harvard makes me glee with the glee-est of glee? I have no desire to see it (because WTF factor is not enough to eat up 16+ hours of my time) but just the thought of it existing makes the world a better place.
And last but not least, the first ep of
The Devil
has aired and people are going nuts: that thread is moving psycho fast, with people posting 'as you watch liveblogging spoilers' (I started clicking and then had to force self to stop) and screencaps and eeeee. It's an awesome feeding frenzy in there. And yes, there is a serial killer in the story. *meep*