Night-time: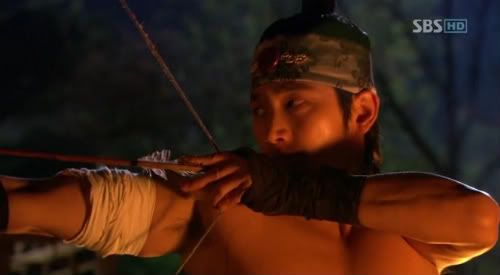 Day-time: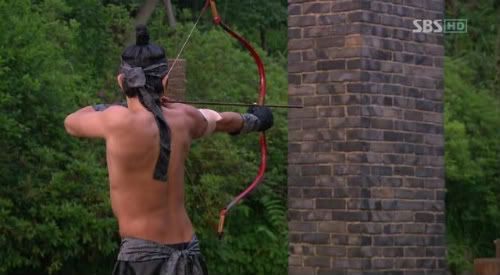 What do they have in common? Well, there is THE YUM.
I have watched episodes 5 and 6 of
Iljimae
and they were most excellent, but for now I want to concentrate just on Shi Ho, who seems (most happily) express his angst through shirtlessness. I live in hope that one day he will get so angsty, he will drop trou too :)
So yes, eye candy post is courtesy of Iljimae's Shi Ho, who might have some questionable character traits, but has an unquestionable hot bod and a devotion to his 'sister' which borders on Tree of Heaven territory.
( More delicious caps here )
In other news, today, I continued my watch of two dramas, one Taiwanese and one Korean, which definitely prove, all over again, that when it comes to fictional men (just as in RL), my favorites are the well-adjusted sweet ones.
The first is the Taiwanese bubble-gum delight
Smiling Pasta
, best described as Full House on crack (I've described it plenty elsewhere, so just click on the tag if you are curious). The hero, He Qun, is an incredibly nice guy, whose biggest problem is a little aloofness and reluctance to expose himself emotionally. But he is so nice to the heroine, and the best part is, he is nice before he falls for her...he is nice because he is nice.
The other is the delicious
Sweet 18
with Lee Dong Gun and Han Ji Hye. The thing that strikes me the most about this drama (other than its sheer adorableness. If you want plot summary, just click on the tag, I am sure I did plenty) is how well-adjusted and
decent
both the hero and the heroine are. Sure, she is a bit immature (but then she is 18! She is not immature for her age) and sure, he is a bit too fixated on being the 'good family son/grandson' but they are both incredibly kind, good people. That is why whenever they fight, they make up rather soon: he feels bad for yelling and she does, too. She understands that he might sometimes be in an awful mood and she shouldn't push, and he understands he shouldn't have lost his temper. They apologize and they explain. Etc. Sweet 18 is a story about strangers pressured into an arranged marriage (well, he is pressured, she is delighted because she is crushing on him) and how they grow to love each other, and how they prove to be compatible despite all their obvious differences (he is a young upperclass prosecutor, she is a recent high school graduate and girl-gang leader). And I love that. I think, ultimately, that is why all the plots-and-plans of Evil Ex of Hero have so far come to naught. She is so lacking in decency herself, she fails to understand that basic principle in the character of the man she ditched and now potentially wants back. She manipulates an evening so Heroine is stuck elsewhere and he is at the theater by himself and the ex has a seat next to him? He walks out. And when she tries to emotionally manipulate or whine, he explains that it's nothing against her, but he doesn't think his wife would like it if he spent time with his ex (and the best part, he is not madly in love with his wife, yet, or anything). And later, he looks for his wife because she is waiting elsewhere and a super-adorable scene follows. She drags the wife shopping and connives her into buying a really expensive suit for the husband, in the hopes he will have a huge fight? He makes the wife return the suit but he isn't mad because she did it for him, and she charms him into keeping the tie and there is an adorable tie-tying scene. Etcetcetc.