Minister: Diaochan, please please please save the Han empire! I will kneel here until you say you will.
Diaochan: WTF? Daddy, OK, anything, please get up. But how on earth can I do that? Last time I looked, I didn't have 100,000 troops hidden behind my skirts.
Minister: I know it will be hard, but please please please please try falling for Lu Bu. I know you probably never saw any men outside your family before, let alone gorgeous and famous generals who saved your life, so I can see this will be a hard task. But please try for me.
Diaochan: *does a dance of joy* Fine, I will martyr myself. Can I seduce him, too? Just in case?
OK, I paraphrase, but seriously, I started laughing like a maniac when the Minister was begging Diaochan to save the Empire by falling for her hot and devoted life-savior who she's totally into. Oh, the hardship! It's like if someone told me to help our economy by devouring vast quantities of ice-cream and cake. Where do I sign up to be the heroine of the nation?
Though his ominous "Daddy will tell you later" when she asks him how on earth this could help is worrying me. Does he plan to lure Lu Bu into his house and slit his throat or something? That doesn't sound too productive because best warrior or not, Old Warlord has got a huge and capable army even without his adopted son. Maybe he hopes Lu Bu will do whatever his girl says and join the rebels for love? Like the Lysistrata plan of "if you love me, you'll join the rebels or no sex for you." Or something. Puzzled.
I probably won't be able to get to any more eps today so I will have to wait until tomorrow to find out.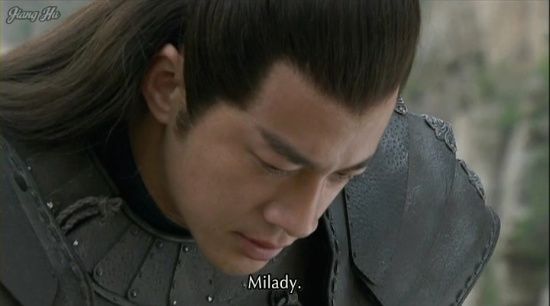 Meanwhile, have the scene where he rescues her in the middle of battle when her carriage almost careens off a cliff. Or actually the aftermath, as I couldn't cap the rescue itself - it was too fast. Somebody (naming no names) has just rewatched it three times.
( Who needs life insurance when you got psycho Legolas looking out for you? )