They've Got a Secret
.
It's not an ep I am super fond of (though it's not bad) so only brief observations behind the cut.
( Spoilery only for the ep itself )
In other news, let's talk about
First Wave
.
If you've friended me for more than oh…a day or so, you can tell that the only thing I like better than checking my LJ for comments is scifi. More specifically, a clever, dark, dystopian scifi or horrorish fantasy.
Now, the scifi/horror/fantasy shows I adore range from cult classic favorites (Farscape, Firefly, Buffy) to currently running (BSG, Supernatural) to over though still known (Dark Angel, Roswell). Some of them are better known than others, but no scifi show I strongly enjoy is more obscure than
First Wave
. Running for three seasons (it concluded its story arc, never fear), FW aired on scifi from 1998 to 2001 (Guh, those were the days when scifi had a lot of good stuff on). It involved dark prophesies, an alien invasion, an angsty, angry hero of awesome hotness, and darkness and dystopia. It is not as clever or moving or romantic as some of my other favorites, but it's still good and deserves to be better known.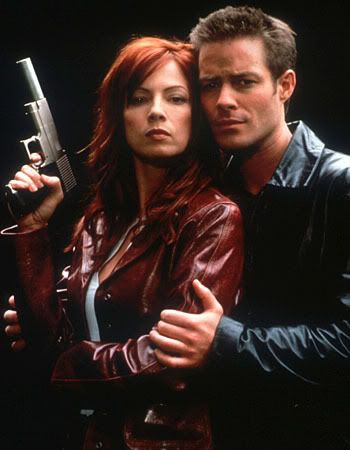 A very short synopsis: Former thief turned security specialist, Cade Foster's life was idyllic, with a beautiful wife, good job and a nice house. Without his knowing, he is used as subject 117 in an extraterrestrial race (called Gua) experiment to test human resilience. As part of this experiment his life is systematically ruined, including the murder of his wife for which he is framed. He is the only one of the 117 subjects to solve the riddles of the experiment and escape arrest to live as a fugitive. The Gua are among humans in the form of hybridised genetic clones and plan to enslave humanity—the first of three "waves" intent on conquering and finally destroying the human race. Constantly pursued by the police, and a strange government agency called the Illuminati, Foster discovers previously unknown quatrains of Nostradamus, which tell of three waves which will destroy the planet unless the "twice-blessed man" can stop them. For this reason, Foster investigates strange occurrences which may have ties to the Nostradamus' quatrains, hoping to find what he needs to stop the Gua.
Reasons to watch? Darkness, and angst, and a hair-gelled-within-an-inch-of-its-life Sebastian Spence.
This is, weirdly enough, not on DVD yet, but you can dl it or find copies on ebay. And scifi still shows it sometime.
( More Photos )
Links:
Wikipedia page:
http://en.wikipedia.org/wiki/First_wave
Episode Guide:
http://www.geocities.com/SunsetStrip/Theater/2119/firstwavetable.html
Scifi site:
http://www.scifi.com/firstwave/