Today's movie push of the day?
One of my favorite Bollywood movies of all times,
Salaam-e-Ishq
, which came out a couple of years ago. SeI is a movie that can cheer me up when I am in a bad mood or tired, which makes me sigh, and get girly, and grin ear to ear.
Very loosely inspired by
Love Actually
, SeI follows six interconnecting stories about six very different couples. Each story has a very different vibe: from angsty star-crossed love, to sexy screwball, to a farce, to a fairytale to a midlife crisis etc.
First, there are Kkamini and Rahul (Priyanka Chopra and Salman Khan), in what is my favorite story of the bunch.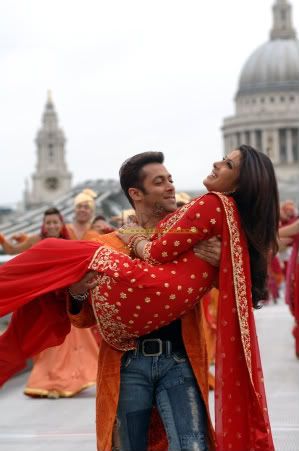 Kkamini is a scheming 'item girl' (woman who does sexy dances in movies), over-the-top and every inch a diva. In order to further her career, she decides a change of image in order, and she 'renounces' her scandalous ways and invents an imaginary faithful fiance named Rahul. Only to be confronted by a mysterious, cheeky stanger who claims he is that very same Rahul. Will Kkamini decide to use him in her plans? Who is he? Will she fall for him instead? Oh, this story is such a delight...
Favorite scene: Kkamini's proposal at the end...
Then there are Ashutosh and Tehzeeb (John Abraham and Vidya Balan), in my other favorite story.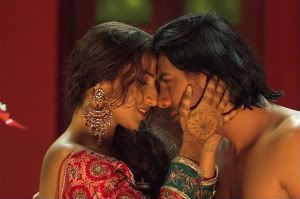 They are an inter-religious married couple, happy together, despite the fact that they have been disowned by their family. But then tragedy strikes, and Ashutosh must find out if his wife is even still alive. And if she is, will she still want him?
Favorite scene: Ashu climbing into unconscious Tehzeeb's hospital bed and holding her...
And there are Raju and Stephanie (Govinda and Shannon), surely the most adorable couple ever...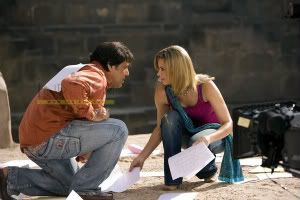 Raju is an idealistic, unworldly taxi driver. Stephanie is a Westerner who came to India to look for her scummy boyfriend who ditched her to marry a 'proper Indian girl.' She speaks no Hindi. Raju speaks no English. But can they fall in love with each other anyway? if you don't like their story, you have no heart, I mean it.
Favorite scene: When she tells him at the end...You know.
There are three other couples. I like them, but not as much as the first three which I
adore
. There are Shiven and Gia (Akshaye Khanna and Ayesha Takia). Both upper-class yuppies, they are engaged, but will Shiven's cold feet make him realize how much he loves Gia too late? There are Vinay and his wife (Anil Kapoor and Juhi Chawla), whose marriage goes on the rocks because of his midlife crisis. And there are the new Mr. and Mrs. Ramdayal, two newlywed bumpkins who are there for a comedy track. The poor things simply can't consummate their marriage :)
This movie has great stories, funniness and angst, awesome sountrack, more eyecandy you can shake a stick at and basically, how can you not love it?
Here is the title song:
I did a lot of long posts on SeI when I first watched it.
To start with, if you are interested in potentially checking it out, and want to know more but not to be spoiled, I did a little unspoilery, dreadfully-rhyming, picture summary of the movie.
It's here
. I also did spoilery write-ups on it
here
and
here
. Oh, and even though I write fic very rarely, I even wrote a fic for it (it's Ashu/Tehzeeb)
here
.
Go watch!!!