One of my most anticipated movies of the year is the Bollywood flick
Kurbaan
, starring real-life couple, and huge

dangermousie
favorites, Saif Ali Khan and Kareena Kapoor.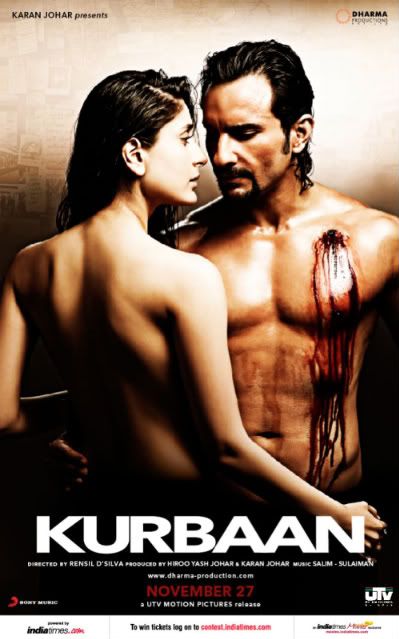 From its promos, Kurbaan seems to belong to that small but uniquely Indian movie subgenre - terrorist love stories. (Other notable examples include Dil Se, Mission Kashmir, Fanaa, Dev and New York). You are basically not a Bollywood star if you haven't played in a terrorist movie. In those movies the terrorist, male or female, is never condoned but is portrayed as a damaged person who will, it being Bollywood, decide to probably die for love of guy, girl, parents, or just grand cinematic exit. There are of course plenty of straightforward "terrorists are here to kill our children but Sunny Deol will save us" type, but Kurbaan is unlikely to be the latter.
In Kurbaan, from what I can tell, Kareena falls in love with the scruffily appealing Saif. However, unlike in real life, this Saif isn't a divorced-movie-star-slash-prince, but an Islamic Studies professor who takes her to dreary snowy North America after marriage. It is there Kareena discovers her husband is...*deep breath*...terrorist mastermind. NAAAAAAAAHIN! Has the girl never watched Fanaa? Never trust those charming guys played by Bollywood stars with last name of Khan.
Kareena decides to stop her deadly darling once and for all. Perhaps she did watch Fanaa, after all.
Anyway - what will happen? I don't know but anticipate finding out. Saif can do dark and even repulsive really well (Omkara) and Kareena is a wonderful actress in a good movie (Asoka, Dev), so yes please.
( He wants your nukes but will settle for your underwear )