Now, here is a dilemma. I am kinda enjoying the show except for one glaring glaring issue - I loathe loathe loathe and despise the heroine.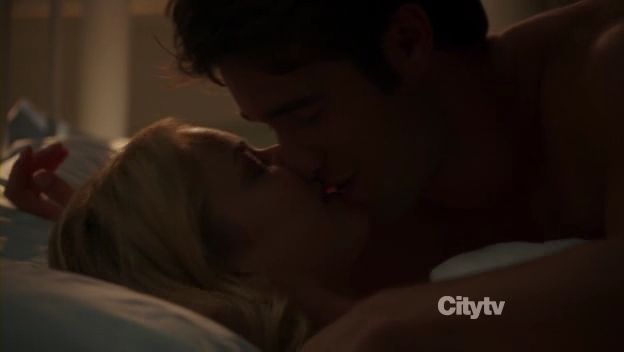 The cap above is one of many reasons why (this cap picked for sexytime prettiness - screenshots of angry housewives are less photogenic). I don't care if Emily is out for revenge and wrecks the lives of those who wrecked hers. But she doesn't give a fuck about collateral damage - in wrecking people who are innocent of any wrongdoing, she is no better than those she seeks revenge on. Daniel is the only the most prominent one of these - I don't particularly love the guy, but he seems a decent enough sort whose only crime is being the son of people Emily wants revenge on - wtf? What kind of person seduces and enters into a relationship with someone to get revenge on his parents? How about all these people whose secrets Emily very publically outed via video to bring down that shrink? What do they have to do with her family drama? Why must their lives be ruined? Or the investors in that fund she destroyed? Some little old lady is going to have her income cut in half and struggle to pay the bills now! Or Daniel's sister - her only crime, like Daniel's, is to be born to people Emily hates - so yeah, get the girl to know her mother wishes she was never born.
Anyway, I loathe and despise Emily and want her brought down forever.
This is not a good show experience - to hate the protagonist. I don't have to like them (I love Boardwalk Empire despite not loving any of the characters. I don't hate any of them - they are too fascinating, but then, BE is in another league from Revenge) but if I want to erase that smug face every time I see her, I think it's time to drop it.Maybe, if I loved some other character, but I don't.
I much prefer
Ringer
- it's not as good but I actually like and root for Bridget (and like Andrew and Juliet as well).