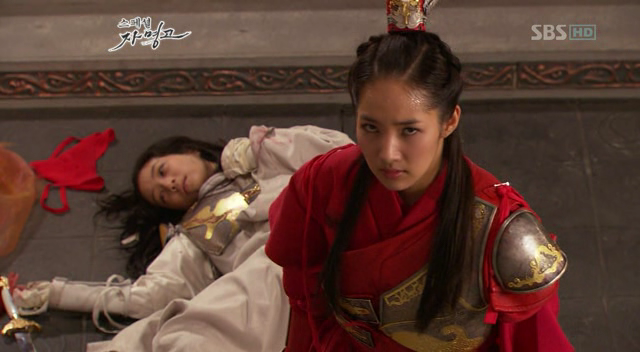 Last year, during the ratings reign of
Queen Seon Deok
, another woman-centric period drama made its debut -
Princess Ja Myung Go
starring Jung Ryo Won, Jung Kyung Ho, and Park Min Young. Unlike QSD which became a huge success and extended its run, PJMG had abysmal ratings throughout and ended up being only 39 episodes (a large number in abstract but unusually short for a period drama). Princess Ja Myung Go took a traditional and well-known Korean narrative - the forbidden and doomed love of Prince Hodong and Princess La Hee, heirs to enemy kingdoms, and disassembled it supposing what the story would have been like if Hodong had been in love with La Hee's sister Ja Myung instead.
Yet, even though PJMG is one of the best and most feminist dramas I have ever seen, its single-digit ratings were no surprise - it took most period drama conventions and upended them. Traditional, royalty-based sageuks after all center around the progress and triumph of its protagonist - he or she may pay a great personal price but will triumph over rival factions/own shortcomings/bad background and emerge politically victorious - a great ruler to be remembered by future generations. PJMG's rival Queen Seon Deok expemplifies that kind of narrative - Deokman is an outcast who, at the end, has lost the man she loved, but is a great ruler to be remembered forever and full of achievements. Yi San, The Kingdom of the Winds, Jumong, etc - all follow this formula more or less. (Fusion-style sageuks which usually deal with 'common' people sometimes choose hopelessness as a theme - see Damo, but these are 'oridinary' people stories).
But this is not the story of PJMG. From the first episode it is clear that there will be no triumphant narrative. This is a story of the defeated - defeated Kingdom of Nakrang, defeated people. And, except for Ja Myung herself (cast in a traditionally heroic mold even if with enough flaws to make her interesting), her mother (a very minor character) and a few other other characters, most of the characters are not heroic either. They are either fascinating monsters (Muhyul, Wang Jashi (Ja Myung's stepmother), Muhyul's Queen) or people damaged beyond repair by their surroundings (Hodong, La Hee).
( Further nonspoilery thoughts )
Basically, what are you waiting for? Go watch!
Have a MV if the above is not enough.