First off, here is the MV that made me go and order
Which Star Are You From
from DVDAsian tonight.
OMG. Looks so good.
( Spoilery MV here )
I am in the middle of ep 10 of
Snow Queen
and must pause for a minute or else I'll hyperventilate to death.
( ep 10 spoilers )
In more cheery news, I am going to die of gleeee!
Pic of Ariel Lin and Joe Cheng from promo activities for
It Started with a Kiss 2
!!!!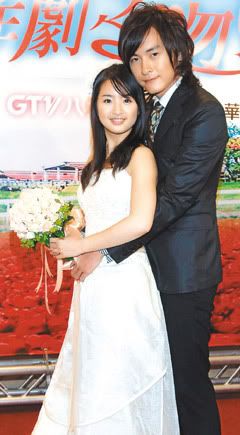 They started filming and have filmed some kissing scenes (heee) and I cannot wait…
Has anyone read
Plum Wine
by Angela Davis-Gardner?
I've started it and it's amazing, beautifully written. It's set in Japan in mid 1960s and centers around Barbara, a young lecturer at a University who is left a trunk full of plum wine by her mother-mentor-figure, Michi who has died. In attempting to decipher the writing on the paper that is wrapped around each of the many many bottles, she comes in contact with Seiji, a pottery-maker who helps her translate the papers (which detail Michi's life) and with whom she embarks on a tender but rather hopeless affair as theirs is a love that cannot be for plot reasons too good to spoil. The book is beautifully written, almost haunting, and deals with alienation and war trauma and connections and everything else. It's wonderful.
In other news, anyone see
My Little Bride
? I think you have,

fivil
, right? Is it worth watching? Normally I'd jump on the badwagon as I love Asian romcoms and Kim Rae Won is a hottie and it seems to have
good reviews,
but the plot has me a bit taken aback. I certainly don't mind a bit of an age difference (it's not like he's 40, he's a college boy) but she is 15!!!! Yeah, I know, their parents force them into marriage despite their last ditch efforts to get out of the arranged situation but still. Eeeek. And he becomes her student-teacher (in school not in *ahem* other ways). So, is it cute enough I'll overlook my slight ick factor? Or no?
( The pics look cute though )
You know, random comment? Part of the reason I prefer kdramas is because the guys there are in my age bracket. I don't feel like a cradle-robber, the way I sometimes do with jdramas :P