Anybody else a fan of the delightful
Peach Girl
anime? I saw it a few years back (just click on the tag) and adored it - it's a funny, fluffy (and occasionally angsty) shoujo tale with a kickass heroine and one of my favorite anime guys.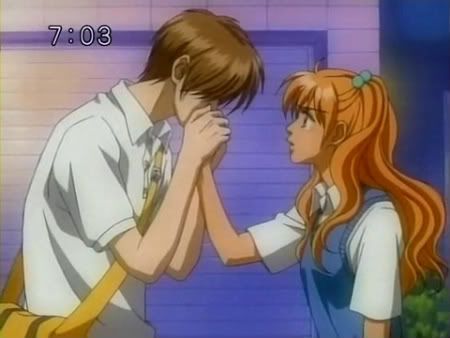 PG centers around Momo, a high school girl often mistaken for a slut because she happens to have hair that easily bleaches by the sun and skin that tans easily and thus looks like the way those girls tend to look (only they spend money on tanning salons and hair bleach). Momo is a physically active and capable girl, an excellent swimmer, but she's been suppressing her abilities because she wants to appeal to Touji, her good-looking long-term crush. And she might just get him if her "friend" Sae, in reality a manipulative girl who delights in taking away whatever Momo has, doesn't get in the way. And then there is Kairi, the popular and flirtatious senior. When Sae asks Momo who she likes, Momo, who desperately doesn't want to reveal the truth to Sae because she knows where it would lead, points at Kairi at random...
I confess the main reason I love it so is because the heroine ends up with someone who I was sure would end up being her best platonic male friend who ends up picking up the pieces every time things go haywire with her bf, while liking her and never getting it reciprocated. But it wasn't the case!
( A few more shippy caps )
Someone should make a good drama of it, and not the awful twdrama that that made 5 or so years ago, either.
Here is a cute Momo/Kairi MV: