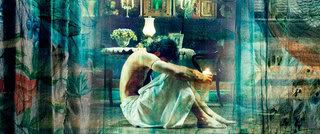 (this is from
Saawariya
)
I admit that for the rest of the year, all my anticipated movies are Indian. There are a lot, but I am only going to list Top 8, with trailers. In order of my interest.
1.
Jodha-Akbar
Date: October 12
Starring: Hrithik Roshan, Aishwarya Rai.
Why: Put together the most gorgeous guy and gal (with psycho chemistry) in Bollywood for a romantic epic, with battle elephants, swords, and starcrossed lovers. Directed by one of my favorites Ashutosh Gowariker. I can't wait.
Trailer: They are keeping this one closer than a secret of making a neutron bomb. No trailer, no stills, nada yet.
2.
Saawariya
Date: November 9
Starring: Ranbir Kapoor, Sonam Kapoor (not related), Salman Khan, Rani Mukherji
Why: I don't know the story as they are keeping it quite secret (a very common practice with Bolly movies) but this is the first internationally produced Bollywod movie (by Columbia! Does it mean it can be in regular theaters?). It's directed by Sanjay Leela Bhansali, my favorite Bollywood director ever. I have yet to see a movie of his I didn't adore. Not only that, but the trailer (see below) is one of the most gorgeous things ever, Moulin Rouge on opium...poetic and beautiful and just...if it looks like this I don't care about the plot. This actually might move ahead of J-A.
Trailer:
Larger version
here
. Worth seeing the larger version trust me. Just scroll down.
( A couple of posters from the film )
( The rest of movies behind the cut )