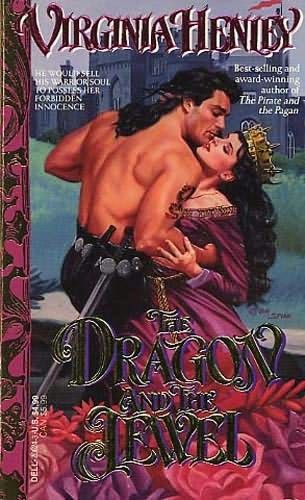 Looks like a typical cheesy 1980s romance novel cover, right?
Wrong.
Do you know who the man with the waxed back, Fabio hair, and a distressing lack of shirt is supposed to be?
Simon de Montfort
. That's right, the man known to history for leading a revolt against Henry III and convening the first elected Parliament in English history. He is known as one of the fathers of modern Parliamentary democracy. Somehow I never knew that in his free time he liked parading around a la gigolo.
Do you know who the scarily-painted woman with the mysteriously sliding dress and a precarious crown (who wears a crown for making out anyway?) is supposed to be? Eleanor of England, the daughter of King John, and eventually de Montfort's wife. I would think that an intelligent, powerful noblewoman of the period would know better than to parade around England in an outfit designed to cause hypothermia, and would have enough money to buy an outfit that covers her shoulders. Apparently not.
Basically, I was rereading Sharon Kay Penman's
Falls the Shadow
, a brilliant historical novel about de Montfort and Eleanor (it's the second part of her Welsh trilogy). I have such fond memories reading it all night in my dorm with music blasting. That made me want to look if there are any other good fiction or non-fiction books on de Montfort, aside from Ellis Peters'
The Brothers of Gwynedd
trilogy (found a good nonfiction one btw). However, by mistake I hit images and this popped up - I could not help but look.
This is the summary on the back:
HE WAS HER FOLLY AND HER PASSION. With her sapphire eyes and silken dark hair, Princess Eleanor was a bewitching beauty made for a man's pleasure. But once a child bride widowed at a tender age, she swore never to marry again and took a vow of eternal chastity ... until Simon de Montfort marched into England and set his smoldering dark gaze upon her, King Henry's youngest sister, the royal family's most precious jewel. Bold, arrogant, and invincible, the towering Norman knight inspired awe in the bravest of men... and a reckless desire in Eleanor's untried heart. SHE WAS HIS PRIZE AND HIS LOVE. They called him the Dragon, but the most feared and dangerous warlord in all the land had one fatal weakness. Inflamed by Eleanor's incandescent loveliness and intoxicating innocence, he would pursue her with a passion that demanded unconditional surrender ... a passion that would erupt in scandal and rock the embattled realm, staining the pages of history with blood and betrayal ... igniting the pages of history with the rapture of all-consuming love...
Ahahahahahahaaaaaaaaaaaaaaaaaaaaaaaaaaaa
aaaaaaaaaaaaaa!
I could not help it. Judge away, for I am now an unabashed owner of
Dragon and Jewel
on my Kindle. It is going to feel a lot like RPF porn and hence lies my horrified amusement. I mean - it's like writing smut about Benjamin Franklin or describing Henry VIII's loins of passion or whatever. Haaaaaaaaaaaaaaaaaaa!
In author's (slim) defense, Simon de Montfort and Eleanor did have a very famous romance - she did ditch her nun-like wow of chastity, they married secretly, and there was a huge uproar among nobility when they admitted their marriage (de Montfort was not English by birth and not noble enough for a Princess etc). And it's rare enough to find a love match for Medieval nobility, in the first place. But still...it's Simon de Montfort as Fabio. My God.
(Yes, I know I am behind on replies).