First off, apologies to the 90% of my flist who've friended me not for anything in Chinese, Korean or Japanese. In my defense, it is summer and all the shows I normally watch are on hiatus.
Last night (4am!) I finished
Mars
( Mars thoughts )
But this is not what this post is about. This post is about
Tokyo Juliet
. It's a Taiwanese dorama and the first few eps are available on youtube with subs (it's currently running and is being actively subbed). Unlike 'Mars' or 'Silence' which I think have good, understated angst, TJ delights me with its cheesy, delicious angst. It's Bollywoodish, and the very concept of it makes me squee in glee and laugh at the same time. The plot? Our Heroine, Lai Sui, is in the Design College. She has sworn revenge against a famous designer who stole her design. Problem? She crosses paths and falls in love with his son. If you want to watch a deliciously cheesetastic, angsty melodrama, with plenty of dreadful high fashion, cute boys, angst, true love, childhood sweethearts and similar? TJ is a good, good choice. I've only started and I am already giddy :) There is an official webpage for it
here
, though for those who, like me, don't read Chinese, it's of limited utility. And I bring pics. Lots of them.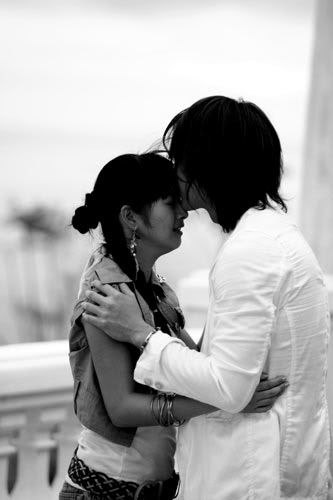 ( More pics. Pretty girls, handsome boys, and odd odd clothes )
And if you think
this
is mixing too many genres, wait until you get hold of
Smiling Pasta
(which is yet unsubbed) which mixes brotherly rivalry, famous musicians having to maintain a fake relationship for publicity (which blossoms into real love of course), college love hijinks, jilted fiancees, lost dramatic loves, and every other thing you can think of.