I've been in a bit of a drama slump for a couple of months - there were a number of dramas I liked well enough (Baker, Giant) but none I was getting that delicious pit-of-the-stomach obsessive feeling about.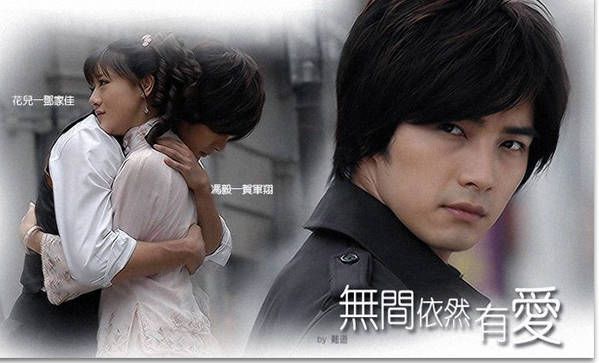 Thankfully, period cdrama
Infernal Lover
has finally got a lot of eps subbed on viikii and I can finally wallow in its angsty awesome period deliciousness. I got preemptively obsessed with it (just check out my infernal lover tag) after watching some clips and vids, plus the first ep subbed on viikii. But at the time, that was the only ep subbed and there was no way I could follow a drama, entirely in Mandarin, which dealt with double agents and revolutionary politics, without subs. I tried, trust me, I tried. But now, at least 10 eps are subbed, so I continued with my watch. Am through ep 4 and totally obsessed. In fact, fighting the urge to stay up the rest of the night to watch all the subbed eps.
I posted a summary before, but here goes: IL is set at the turn of the century and stars Mike He and Deng Jia Jia as, respecitvely, an undercover nationalist agent who has managed to become a chief of the brutal secret police force and a beggar girl who falls in love with his hidden kindness. There is a lot of intrigue, guns, and period clothes.
So far, both heroine and hero are bucking for Most Unlucky/Miserable Life Winner award. In the first 4 eps:
Heroine:
Lives in poverty, starving, and having to beg on the streets
All she earns goes to her little nephews and the rest to evil sister-in-law who mistreats her
Gets mistaken for a revolutionary and horribly tortured
And shot and almost killed
And almost drowned
Sold into slavery into creepy household whose master almost rapes her
Gets caught by secret police again (though let go).
Hero:
Brought up on the streets as starving and mistreated orphan
In order to further revolutionary cause, has to be double agent and work for evil secret police
And kill fellow revolutionaries to prove good faith
And torture people
And is ordered to kill his adoptive father, the one person who showed kindness to him. And who now tells him to kill him for the cause. So he does
And his stepbrother believes he is a traitor and hates him
And singer he likes turns out to be a total psycho who tortures him and his girlfriend and tries to burn them to a crisp (many eps in the future but I spoiled self for that)
Basically, there is not enough therapy in the world for either of these people. She is still pretty upbeat though in a "I won't let life get me down" way which is just as well because he's one constant walking nervous breakdown. (I gotta love a drama where hero falls for heroine because she's the one person who unhesitatingly believes he's a good person - something he himself doesn't believe at all).
I already posted this MV, but here it is again.
Yes, I realize I am horrendously behind on replies, again. I promise to get to them asap. After I watch just one more ep of IL. Just one..or two...or three...