I am done with the first episode of
Love Story
, a 2001 jdrama starring Toyokawa Etsushi and Nakayama Miho, and I am already madly, irrevocably in love.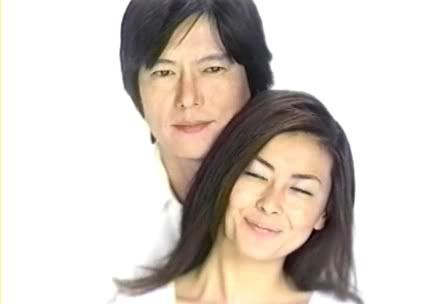 It has the trademarks of all my favorite jdramas: a nuanced, grown-up, somewhat understated story, with some fantastic acting and complicated, strong-willed, and adult characters. Aishiteiru To Itte Kure gave me an enormous crush on Toyokawa Etsushi, and I am glad that Love Story shows that is not a fluke - the fact that he is an adult playing an adult certainly helps (he was 39 when he starred in this), but what really attracts me is that air of somewhat rumpled intellectualism he has (which he also had in AtIK). Plus charisma. And I have never seen Nakayama Miho before but I adored her on sight - a grown-up woman (considered "on the shelf" at 30), not a simpering or 'cutesy' girl, she portrays someone as strong-willed as Toyokawa Etsushi's character. Stubborn men and women who won't let them get away with it is one of my favorite combos.
What is the plot? Nagase (Toyokawa Etsuhi) is a famous novelist suffering from a two-year writing block, reserved, eccentric, and not too fond of people. Misaki (Nakayama Miho) is an editor under contract: her life is not going anywhere much: she is 30 (thus is considered old by the ageist society standards), she is not a permanent worker at the publishing house.
As an act of desperation, the publishing house assigns Misaki to their nightmare (but most profitable) author: Nagase. To say their first meeting doesn't go swimmingly is an understatement. When misanthropic Nagese grumps at her, Misaki insults him right back! This act gets her fired, of course, but what we see is that neither Nagase nor Misaki are the absolutes they appear at first. Nagase might be abrasive and certainly eccentric, but is rather kind, in his cranky way, and Misaki is not all steel either: her realization her life is stalled is a constant, believable presence.
Having nothing to lose (and with nothing to gain), Misaki comes to apologize the next day, and the scene between her and Nagase in his apartment is what really made me fall in love with this drama - she apologizes because she was rude and because she used to love his books, but there is no demeaning or grovelling in her attitude. And he accepts and clearly is loath to have her leave - in their ten-minute conversation, each one reveals more about themselves to each other than they must have to other people, in years.
Misaki might end up helping Nagase break his writer's block, but he might just end up falling for her...
( A few caps )