Hmmm, is it just me or is it funny (as in 'odd' not 'hilarious') that in both dramas that Jae Hee has done (Delightful Girl Chun-Hyang and now Witch Yoo Hee), he is paired with a really intelligent, strong-willed heroine? Of course, Chun-Hyang is normal and not uber-bitch like Yoo Hee (in fact that characters don't have much in common), but they are both successful, bossy, and suffer no fools.
The ending of DGCH just feels me with so much glee and really, for some odd reason makes me think of that quote from LM Bujold's Miles books, where they refer to Cordelia as 'The Admiral's Captain' (Cordelia is one of my favorite fictional heroines, and can be downright scary, and the Admiral in question is Aral Vorkosigan, her very very powerful husband). Because seriously, I can just see Mong-Ryong and Chun-Hyang after the drama ends. He will be this totally alpha, fearsome DA who takes down organized crime and kicks people's heads in and is all tough and everything, but then he'll get home and Chun-Hyang will totally boss him, and the thing I love is he will totally let her, not because he is spineless, but precisely because he has nothing to prove and he is very proud of his clever, bossy, strong-willed wife. And it would totally amuse him, too.
And in other drama news, I bring you some pics from
My Love Patzzi
, cute if not spectacular drama I am watching right now. Hmmmm, this is good as a 'relax' period, but I think I need to do a poll for which drama to start watching that will make me obsessed next.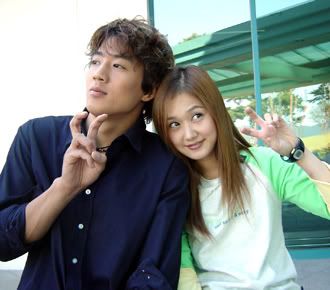 ( My love Patzzi )
And I think I just found my next 'obsession' drama after the rest period of watching My Love Patzzi. I just got my hands on
Snow White
(also known as
Taste Sweet Love
). OMG!!! Bad boy Lee Wan. Trumps it all.
I found this MV for it on youtube. I dislike country music, so the soundtrack for the vid drives me bonkers, but the vid itself is cut really well and you can totally see the awesomeness of SW. Just hit the mute button for the MV soundtrack if you are country-allergic :)
( Vid here )
And because I will always love and obssess over
My Girl
(the way I love and obssess over
Goong
), here is a cute
My Girl
MV I found. Once again, not too keen on the song but the MV is cute:
( Vid here )
And to end things on an awesome note (here I love the MV
and
the song), here is MV for
Green Rose
, which is the first drama of my 'incomplete' list I will restart:
( MV here )