After 4 eps of
49 Days
it's official. I don't care if Han Kang gets together with Ji Hyun in her own body or Ji Hyun in Yi Kyung's body, but get together they must. I ship them more than rabidly.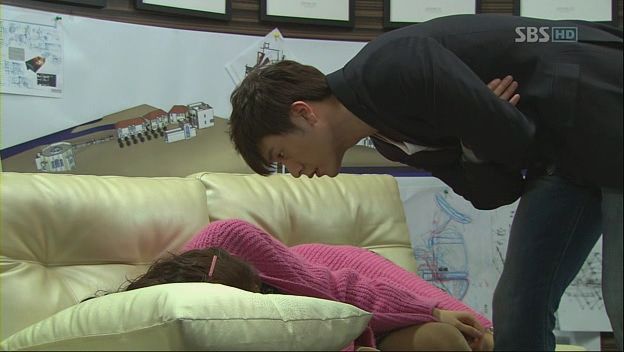 How are they so wonderful?
( A few more samples )
I like Jung Il Woo's scheduler, but he's not human enough for me to ship with anyone. Yet, at least.
I don't really get all the bashing of Nam Gyuri. I think she's doing a fine job - I like her character, sympathize with her, etc (and no, no just when she's in Yi Kyung's body, played by Lee Yo Won). Is LYW a better actress? Yes. Does that mean NGR is doing a bad job? Not at all.
Other thing I don't get it people shipping Han Kang with Yi Kyung herself. People are obviously entitled to ship however and whoever they like, I just don't get it, since not only did HK/YK had zero interactions, we know very little of YK or her personality or what she is like - she's been barely seen and even then as a walking zombie. Once we learn more of her, perhaps, but for now it seems odd.
I am trying to figure out which of the rules that Scheduler gave JH will cause danger/get broken:
* She needs three pure tears from three unrelated people. Without those people knowing she is JH who needs them, which is pretty tricky. I mean, I am sure Han Kang's tears, if he cried, would be the pure tears she needs, but why would he suddenly start bawling e.g. on day 45? I wonder who'd provide them, actually. Her scumbag fiance and best friend surely don' qualify. Han Kang is one person. Her other friend? Yi Kyung herself, somehow? Maybe even the Scheduler? Hmmm.
* She can't reveal to anyone who she is, or else that amulet around her neck breaks and she dies. But what if someone figures it out? That would be delicious, her having to deny it. Hmmmm. Who knows if it will happen, but I like contemplating the possibility.
* This is the biggie. Assuming she gets her 3 tears and doesn't die but comes back into her body - will she remember anything of these 49 days wondering as a spirit/in YK's body? I can't see he divine being in charge allowing people to wonder around with detailed knowledge of the afterlife. But then - if she doesn't remember anything, how would it go on? Fine, fiance and best friend would probably be out of the picture due to plot developments prior, but she wouldn't recognize the human version of Scheduler (provided that hint about him becoming human was just that) and all her time with/experience with Han Kang and possibly seeing him differently wouldn't happen. So what then...