In order to lure

meganbmoore
into Booooooolllllllywood. (Or anyone else who is interested).
I bring you a pusher post for
Karam
. Because hey, I know you like Asian movies, and this is the closest I've seen Bollywood come to an East Asian film. Plus, no people dancing in Switzerland but rain, doomed love, dark characters, and a lot of gun violence. So yeah. It's violent, it's angsty as hell, it has striking visuals, the music is great, and I think this is some of the leads' best acting to date.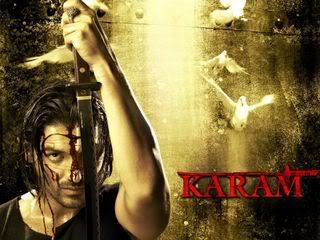 Plot: John (John Abraham) is a highly competent contract killer for the mob boss, Captain. He is OK with his job and is also madly in love with his wife Shalini (Priyanka Chopra) who loves him despite knowing of his occupation. However, during a routine hit (he is supposed to eliminate some mob rival or a politician or God knows who), the contract goes dreadfully wrong and a family (a father, mother and a little girl) end up murdered. After accidentally killing a child, John hands in his resignation, as an assassin with PTSD has a very short life expectancy, but his timing couldn't be worse as Captain just started a new mob war. He wants 5 targets "taken care of" in the next 36 hours and he holds Shalini hostage to ensure John's compliance. And this is where the fun (or angst) starts.
First, a word of warning: this is a very violent movie. Have a dog bite off bits of a person violent. Your level of squeamishness may vary. Now, on to the good stuff:
I love the visual look of this movie: the drawings, the selective use of black and white (my favorite example is John's nightmare when he sees Shalini shot in front of his eyes. Everything is in black and white except for two goldfish in their tank). It doesn't look like anything else I've seen. The whole movie actually doesn't feel Bollywood. It is something I imagine coming out of Hong Kong or Japanese movie industry, not India. The pace actually is very good, a rarity for a Bollywood thriller. I think part of the reason this movie flopped was the darkness (it is a very bleak film, even if a tremendously romantic one at the same time) but part was the fact that it really doesn't feel Bollywood in the least.
( Spoilery Karam write-up I did a couple of years back )
( Karam posters )
Here are the picturizations from
Karam
.
( Ahhh, I love you youtube )