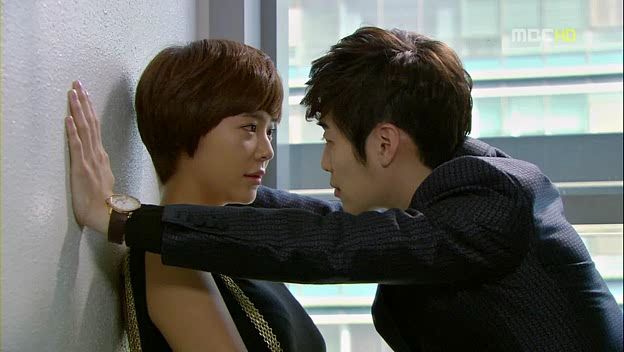 Watching
Me Too, Flower
makes me miss Kim Jae Won so much! I wish so fervently he didn't have an accident and had to drop out - I keep seeing him in the role. That is not to say that Yoon Si Yoon is not knocking it out of the park, because he is, but what can I say - I am a hopeless KJW fangirl. So to assuage my KJW craving, I've been rewatching the shippy bits of the ridiculously underrated and marvelous
Can You Hear My Heart
. It was a very solid drama in every way, but for me, the heart of the drama was the relationship between Kim Jae Won's character - warm and just
good
underneath the prickliness and damage and Hwang Jung Eum's sweet, loving, selfless, tough gal. Dong Joo and Woori both got a rough deal in life and yet somehow emerged with shining, selfless souls. I love them together because they are sweet and funny and loving and trusting with each other. Because she needs for someone to take care of her, instead of being taken care of by her. And he needs someone to see him - not the rich heir, or someone with a 'despised' disability or anything else, just a person.
And they are so tender with each other, it kills me.
( Behind the cut are two gorgeous scenes from ep 18 )
In unrelated news, I am continuing with Jilly Cooper books - I am reading two at the same time - "Polo" and "The Man Who Made Husbands Jealous" - about a headstrong young woman trying to make her way in polo and a dim but sweet young man who makes a living fake-seducing rich middle-aged wives so their husbands would come back to them from their mistresses, respectively. I love both of them (though, surprisingly, Man better than Polo, mainly because while I like Perdita, she's hella difficult). Also, it's official - there is no married couple in Jilly Cooper books, except for Rupert/Taggie, where there hasn't been adultery at one point or another - maybe it's my prudish American mentality, but surely if your spouse means so little to you that you are willing to break their heart and lie, you are better off divorced? Also, Polo has Rupert and Taggie's wedding which = me in a puddle of goo. And last but not least, if there is anything Jilly Collins books taught me is be careful who you try to sleep with, especially if, like Perdita, you know you are a product of a drugged-up, drunk orgy you Mom had in the 1960s and nobody has no idea who your Daddy is. I mean, stick to guys your own age and hope they are not half-siblings. Perdita should thank her lucky stars Rupert is obsessed with Taggie because if she tried her "I am naked in your bed, let's have fun" stunt before he met Taggie, I am sure he'd have been happy to oblige and sleeping with your own father is not good unless it's Futurama.