I have checked out episode 1 of
Jejoongwon
- the period Korean medical drama about the start of Western medicine in Korea.
Short verdict - it's a good, competently made drama that is not necessarily my thing. Mainly because no medical drama is really my thing - I am very very squeamish. But I liked the concept and characters enough to stick around for a while.
This is our protagonist, a butcher with a sick mother, who yearns to become a doctor. It's a period kdrama so his life is full of dirt and misery and being abused by those above him in station (seeing that they are shown executing people for illegal butchering, Korea was an...interesting place to live). This actor is very good and I feel tremendously his character's desperation even if I do not find him in the least attractive and even if I feel itchy just looking at his hair.
These are the other two main characters - long-standing friends. Their lives are easier because they are both upper-class but they are both misfits - he is the son of a Justice Minister who wants to study medicine instead of government exams and she is a noblewoman hampered by her gender from achieving any ambition. Her intelligent practicality and his ruthless streak are both already evident and I like them both a lot.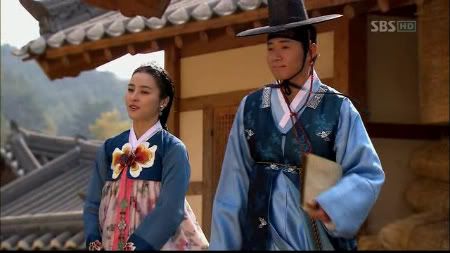 This drama is ridiculously gorgeous and lush:
And the costumes are to die for.
I plan to continue even if watching butchering and surgery makes me, regrettably, a little sick.