First off,
Galactica
tonight! How excited am I? Thiiiiiiiiiiiiiiiiiiiiiis much. It's funny, but I am a lot more relaxed with BSG than VM because while VM can grab me and give me heights of glee, my emotional attachment and wishes sometimes make me anxious (e.g. I sometimes get "get L/V together now" or frustrated with why Duncan is portrayed as good or what not etc etc). With BSG, it's an intellectual love so no matter what they do, as long as it's not dumbed down, I am happy. Makes for a much more relaxing viewing experience.
Today's recommended movie is
Indochine
, the winner of Best Foreign Language Film Oscar in 1992 (yes, I am on a French movie kick lately). If you like epics, period movies, angsty love stories, or a nuanced look at a complicated political situation, this is a movie for you.
The story centers around a rich French plantation owner in Indochina, during the French control of what is now Vietnam. Eliane (Catherine Deneuve, who received an Oscar nomination in the role) is a confident, intelligent, powerful woman. She has also adopted a Vietnamese girl who she named Camille (Linh Dan Pham). In fact, the movie's story parallels the relationship between "parent" France and child "Vietnam" and the relationship between Eliane and Camille. Eliane enjoys the orientalism aspects of the East: she visits opium dens, she has discreet affairs with younger men. One such affair is with a young naval officer Jean-Baptiste (Vincent Perez, who IMO never looked more yummy). They are discreet. Very discreet. In fact, they are so discreet that it leads to a problem as Camille falls in love with Jean-Baptiste. On learning of it, Eliane uses her influence to have Jean-Baptiste posted far, far, FAR away in the middle of Vietnamese jungle. But Camille, who is both strong-willed and sheltered, runs away in order to find him. And so begins her trek across Vietnam and her exposure to the French rule of the region. Will she find him? What will happen when she does? And what will her new knowledge of the harsh regime do to her view of the French? This is only the first hour of a 3 hour movie by the way.
This is a movie with very strong women characters and I love that. Both Camille and Eliane are exceptional women and both are flawed. In fact, there is a bit of gender reversal in this movie as Jean-Baptiste (who is wound up extremely tightly in the beginning of the movie precisely because he is afraid of his strong emotions overwhelming him) is the most emotional and "domestic" of the three.
Camille and Jean-Baptiste: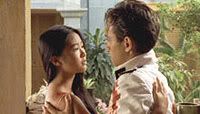 This movie has one of my Top 10 romantic scenes ever, even though it's really simple and short.
( Spoilers for the scene )
I also love the somewhat bitter yet hopeful ending.
( Spoilers for the ending )
( Some pictures from the movie )