GRRRR.
I finished
Absolute Boyfriend
("Zettai Kareshi") and now I am crying.
( General unspecific AB spoilers )
OTOH, volumes 6 and 7 of
Hana Kimi
are an adorable, adorable delight. Can I have a Sano? Pretty please? I love the bit where she keeps doing 'sleepovers' in his bed. Poor guy! And he hugs her. AWWWW. Mizuki really is clueless. But the bit in the onsen! When they are both nekkid and he bolts because he is fixating on the little skin he sees above the steam and OMG. Boy must have crazy self-control. For those who are wondering,
Hana Kimi
is an adorable manga, soon to be dorama about Mizuki, a girl who cross-dresses as a boy to join an all-boys school which her idol Izumi Sano (she is into high jump) goes to. They end up being roomies and he falls for her but he can't let her know he knows she is a girl and she can't let him know her gender and complications and fluff and angst ensues blah blah.
And in honor of HK, I bring you pictures from the coming-soon t-drama adaptation. I have to confess I am a bit puzzled by the people at soompi. They are saying Ella (who plays Mizuki) looks too boyish. WTF? She is supposed to be able to pass for a boy. Argh.
Sano and Mizuki: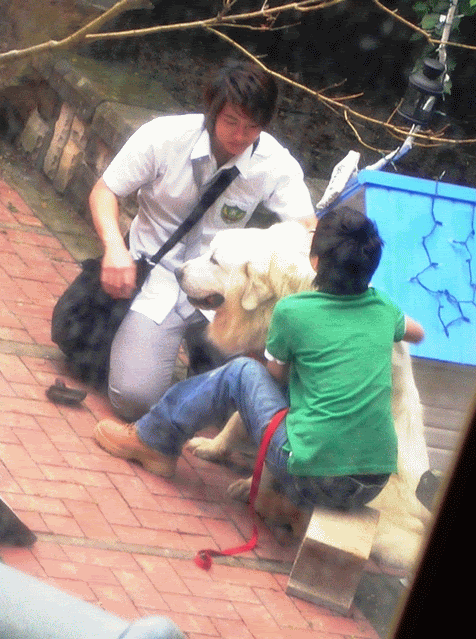 ( More HK pics )
And because I plan to start my watch of
Kurosagi
shortly, some anticipatory picspam:
( Oooooh, intense )
And a bit of Kame/leading lady in TKnK cuteness, just because.
( Cuteness and a bit of FY fantasy casting )
And hey, because this is such a mishmash of a post, more
Rurouni Kenshin
badfic summaries from ff.net.
( True Horror )
And a bit on ep 9 of
Kamisama Mou Sukoshi Dake
.
( KMSD is LOVE )