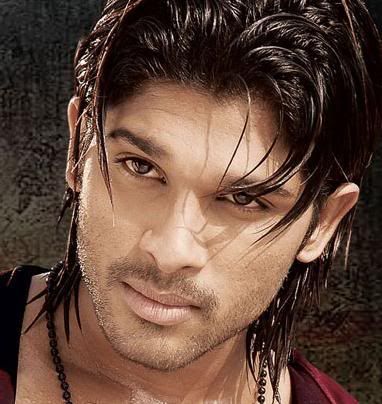 Indeed.
I adore Bollywood movies, as most of you know. However, I have ventured into South Indian movies (Tamil, Telugu, Malayam, Kannada etc) very rarely. In fact, I think I have only seen 4: Bombay (which was dubbed into Hindi and starred Bollywood actress Manisha Koirala); Kandukondain Kandukondain (starring now Bollywood mainstays Aishwaria Rai and Tabu); Dumm Dumm Dumm, and Nuvvostante Nenoddantana.
Honestly speaking, I had no interest in watching more, even though I liked Bombay, DDD, and NN and didn't mind KK. Bollywood kept me fully occupied when I craved an Indian movie fix but also - let's be honest here, I am shallow. I want my movies to have hot men. And with the exception of rather appealing Madhavan in DDD, the Southie actors in the other three movies, not to mention random pictures I have seen of them around were anything but hot by my standards - beefy if one is being kind (and rotund if not), with a bushy mustache and a week's-worth of stubble on their chin, and not ever able to see forty again were all not my bag.
But clearly, while I am sure there are plenty of Southie male stars who look like retired gym teachers, I have been looking in the wrong places and there are apparently hot guys in other Indian movie industries beside Bollywood!
( Enter for proof )
So, any recommendations for Southie movies starring Allu Arjun, Madhavan, Vikram, Prabhas, Dhanush or other hot guys? I don't care which genre they are in, but they have to have English subs and be relatively easy to find.
In other news, somebody found and posted this spoilery pic from the set of
My Name is Khan
, starring Shahrukh Khan and Kajol.
( Here it is )
(All pics taken from BollyWHAT)