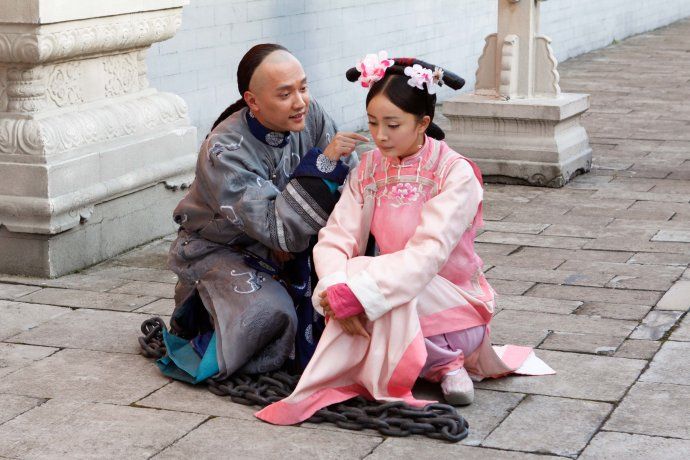 I just read the wikipedia article on Kang Xi and his family, so I could follow
Jade Palace Lock Heart
better and all I can say is "ruuuuuuuun, girl, ruuuuuuuun!" They make the typical kdrama family seem loving and functional.
She's just been selected as concubine for Crown Prince, which could be a sweet gig except for the whole "he was a pedophile and liked to kill people" wikipedia mentions (there is also mention that he could have been framed, and I sincerely hope so for heroine's sake).
The guy who I think is her OTP, 8th prince, doesn't seem like a much better choice, because he got on the bad side of his bro the 4th prince, future emperor, and got his titles stripped, jailed, renamed "pig" (not even touching that one) and conveniently died.
Go for the 4th prince, girl! Sure, he seems like a ruthless bastard, but he's a smart go-getter and going to end up on top! He's not bad-looking, either, if you like long hair on guys, and not like you have much choice about your significant other's hairdos in 17th-century China.
I also think one of Kang Xi's wives is a poisoner?
Seriously, gal, I bet your boring-but-smoking-hot fiance is appearing a lot more appealing now.
ETA: "The more you fight back, the more I like it." Oh, Crown Prince, you really really fail. I love that the heroine is a history nut so she knows all about his reputation and is trying to claim she's a supernatural being to get him off her during his rape attempt.
ETA: OMG, she is awesome. She strikes a bargain to avert his father's wrath and then he would let her go. And her plan is smart and totally works!
ETA: Ahahahahahaha how I love the first OTP meeting! He fishes her out of a pond she's been shoved into by jealous wife of Second Brother and then he introduces himself and her eyes bug out of her head (this is my fave part of time-travel dramas - people's reactions to meeting famous people) and she keeps staring and you can tell he's going "wtf is with the insane woman?" And he tells her that if he knew who she was (ie. 2nd bro's intended first wife), he'd never fished her out because he can't stand schemers and she's better off dead and she slaps him. Aahahahahahahahahahahaha go make babies now!
ETA: 4th bro is planning to use the gal who's crushing on him to kill 2nd bro. Ah, there's the future emperor! Only by mistake they kill 18th bro instead who is a kid. Ugh, can someone stab 4th bro to death already?