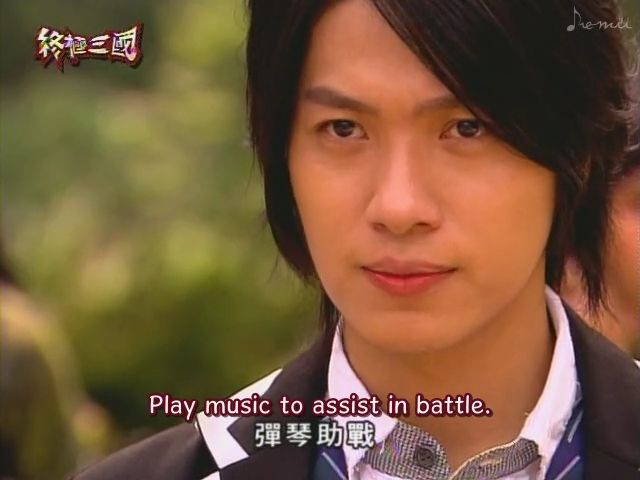 Points to whoever wrote this insane amazingness since the original Zhou Yu in Three Kingdoms was supposed to be a musical connoseur who played the flute (I believe). Here he is, of course, playing a guitar in a band. A guitar he uses as a weapon. Hey, wuxia heroes use fans, so why not? And he and Liu Bei team up and defeat machine gun-wielding armies with their guitars of world domination (and Cao Cao joins in on the piano. Ahahahahahaha). Oh, and one of the enemies they are fighting is Xiong Nu high school. Ahhh, K.O., I love you.
Anyway, I should make a proper post (I have 800+ caps!) but that would mean taking too much time away from watching. Soon. I am currently in the middle of ep 21 and I think its my fave ep ever. Ah, the bromance between the Wu Hu Jiang generals and Liu Bei makes me all mushy inside (oh God, I never thought I'd type that sentence when I was watching TK proper. Though if it was like TK, they'd share beds :P). Plus, Shang Xiang is such an awesome tough badass and she and Liu Bei are my perfect OTP. Also, Zhou Yu (who doesn't appear enough, boo, but when he does, he's always totally awesome).
So far, I'd have to rank my favorite characters as:
1. Guan Yu - best fighter in this world (probably) and so honorable and straightforward and hopelessly adoring of Diao Chan and just - I have such a thing for ultimate good guys.
1 (tie). Liu Bei - tied with GY as result of eps 20 and 21. Shippy and loyal and self-sacrificing and smart and bemused. ILY.
3. Shang Xiang - coolest lady in a drama with a number of cool ladies. Smart (probably the smartest of the main characters) and tough and warm and 100% sheer awesome.
4. Zhou Yu - he doesn't appear nearly enough but I love every single one of those times. Smart but arrogant, loyal to Sun Ce but not always trusworthy towards out heroes, he's kinda an enigma and this is fun. Plus, I can just sense a ton of history with Xiao Qiao and that is also always fun.
5. Xiao Qiao - she's funny and spunky and optimistic and common-sense and manages to terrify someone as terrifying as Zhao Yun. What's not to love?
6. Zhang Fei - he makes me laugh. Plus, he's the only one who knows Liu Bei's secret and acts like an awesome younger brother.
7. Zhao Yun - hey, hot and righteous and good at kicking ass and appreciates Xiao Qiao. All stellar qualities.
8. Huang Zhong - because he's pretty and an archer, and those are two things I have a huge weakness for.
9. Ma Chao - I like him and am convinced he and HZ are a couple :)
10. Cao Cao - scheming mastermind who befriends our heroes and turns into a suttering idiot around Xiao Qiao. He's smart, he's unscrupulous but (for now), he's entirely on our good guys' side.
11. Diao Chan - she's nice and makes Guan Yu happy but she's not terribly interesting in her own right.
Haven't yet seen enough of Sun Ce, Sun Quan, Zhuge Liang or Da Qiao to rank them.