Tonight were two episodes, both of which I love, for very different reasons:
Relativity
and
Incubator
.
Both of them are, in different ways, about what forms you, about parents and heritage and being confronted with reality different from prior beliefs. In Relativity, the target is Aeryn, in Incubator, Scorpius. The fact that FS did a whole episode about Scorpius, and made me understand exactly what makes him tick, and revealed his complexity even further, and yet never descended into 'poor and misunderstood' is a brilliant miracle. His back-story is horrific, but he is not any less horrific himself, for it.
( Very long thoughts on Relativity. Aeryn-centric )
Here are some caps from
Relativity
, courtesy of Farscape-Caps.
( Caps here )
Incubator
is a very unusual episode, Scorpius centric. It's not an ep I would rewatch a lot, but it is probably one of the densest, most complex, most meta-full episodes out there.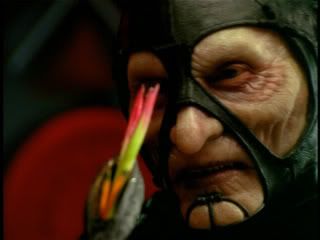 ( Long Incubator thoughts, largely Scorpy centric )
And here are some caps from
Incubator
, courtesy of Farscape-Caps.
( Caps here )