I, like many people on my flist, have been discovering the goodness that is the BBC adaptation of Mrs. Gaskell's novel. I read N&S a few years back when I was going through a Gaskell binge (I also recommend Cranford, Wives and Daughters, Mary Barton (another labor novel), Ruth, My Lady Ludlow, Cousin Phillips, Sylvia's Lovers (a flawed book but a haunting portrayal of despair)) and it became my favorite Gaskell novel. The plot? A rector's daughter, the refined and strong-willed Margaret Hale, is forced to move to a Northern mill town where she encounters and engages in battle with the equally strong-willed and "common" John Thornton, mill owner. Oh, and there is labour stuff, and class issues, and strikes, and a cool plot, but what draws me are the personalities. In a way, it's the best of Austen and Bronte mixed together to create a story that isn't like either (yeah, this made sense in my head).
I prefer Gaskell to Austen, btw. Blasphemy, I know.
Well, this adaptation is guuuuuuuuh. I always thought Thornton was hot, but never realized just how hot until I saw Richard Armitage version of him. Guuuh. The height and the spare elegance and intensity and the temper (though he never did beat anyone in the book, the way he did the worker in this adaptation) and that gorgeous burr of a voice that reminds me of Sean Bean. I am smitten and I am less than an hour in.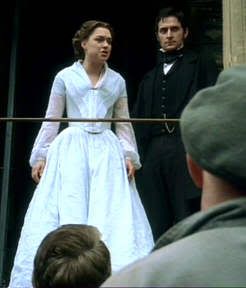 ( More N&S pictures )