1. David Duchovny is a sex addict. That is amusing me immensely. I have never watched him an anything (yes, I have never seen X-Files) but am of course familiar with him through pop culture osmosis, so LOL. LOL. LOL. LOL. LOL.
2. In news of celebrities that are not creeps, I wonder if it says more about general celebrity culture or my own innate cynicism, that I always get faintly surprised when it turns out a celebrity I like didn't do whatever bad thing it is they are supposed to have done. I am talking about Song Il-Gook here (a Korean star and one of the hottest men I've ever seen). Some time ago there was some scandal where some tabloid journalist lady accused him of beating her when she approached to interview her, and giving her a bunch of nasty injuries. "Oh well," thought I. "Whatever, he is still hot. And he really was too good to be true." She sued him for damages, apparently, and he kept saying he didn't lay a finger on her. Imagine my pleased surprise when it turns out there were CCTV video cameras in the area and they indeed show no beat-down of any sort. Heh. Now she is in trouble for libel and a whole bunch of other things (I'd imagine extortion would be one of them). Yay! I am so glad you are not a woman-beating jerk, Song Il-Gook! Though seriously, Lady Extortionist, how dumb are you? Make sure you aren't somewhere where there are cameras, silly!
Anyway, this is almost as awesome as the fact that SIG is married to a lady Magistrate and nobody knows what she looks like because he wants to maintain her privacy. Cute! (Apparently paparazzi are tamer in Korea and don't stalk people in grocery stores or fancy nail salons, or wherever it is wives of famous dudes spend their time. Law library?)
3. I got my hands on the latest (and last)
Vicky Bliss
book by Elizabeth Peters. Yay! I used to love her Amelia Peabody books but she should have stopped with
He Shall Thunder in the Sky
. Everything got resolved: who Sethos was, what will happen to the dysfunctional gorgeousness of Ramses/Nefret (such a big OTP of mine. There needs to be NC-17 fic), etc etc. The books since then just felt redundant and repetitive. Find a new cash cow, EP!
I love Vicky and John though. Yay!
4. Last but not least, I am totally looking forward to the Bollywood movie
Drona
starring Abhishek Bachchan and Priyanka Chopra. It's supposed to be fantasy-adventure and looks so cheesetastic that if you have lactose intolerance, I'd beware. Since I love cheese, I am all for it. Plus, Abhi looks HOT.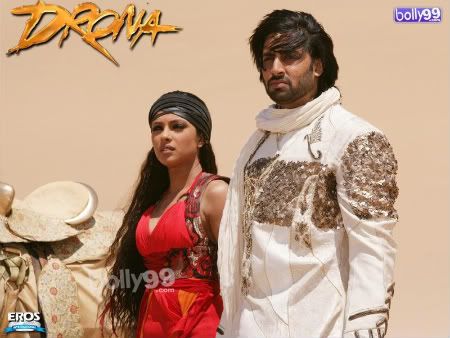 ( Some more stills )