I might pick up
Take Care of the Lady
again but my enthusiasm for it is gone - it's the biggest disappointment of the year for me. My interest in
Dream
fizzled likewise. I might catch up on it sometime but it's a mediocre drama at best.
There are some recently ended dramas I must catch up on: Friend (best of the year, so far), Swallow the Sun (Ji Sung!), Princess Ja Myung Go (criminally underrated).
What I really feel in the mood for is a Korean period drama that is not too long, has court intrigue, politics, and a side of doomed love. I might pick up Emperor of the Sea or Return of Iljimae or Bichunmu or Jumong again. I might check out Conspiracy in the Court, Eight Days, or Yi San. Or rewatch Kingdom of the Winds.
But it all conceals the evident truth:
what I really want to watch is Chuno
. The more I read about it, the more ridiculously, feverishly excited about it I get, but alas, it's not coming out until January, and very possibly, March. ARGH.
There are, however, four dramas this fall which will, hopefully, tide me over nicely until then.
IRIS
(which I have talked about so much there is no need to blabber further),
Strange Heroes
(or whatever title it is this week - it has Lee Jun Ki and other cast I approve of, even if my interest dropped off significantly once I found out it's about journalists),
Angel's Temptation
(Bae Soo Bin in a plot involving revenge, plastic surgery, and other insanity), and,
You're Beautiful
.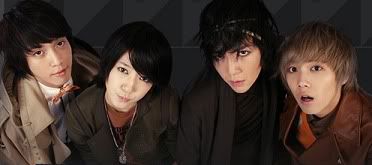 It is the latter I want to blabber about - a story of a rock band called A.N.Jell - a four guy rock band one of whose members is actually a cross-dressing girl and the other three members do not know it. It sounds as if it's made entirely for me. It also might be the first time I have found Jang Geun-Seok attractive (usually he is too weird or too girly or too Emo Prince for me to go for). Here he is
( behind cut )