Life on Mars
continues to be amazing, but this is not about that.
I started rewatching
The Christmas Invasion
, and oh, what pure delight (after I finish it, I'll do a proper rewatch of Who, from S1). I am only ten minutes in but am already grinning. Here are caps from the beginning: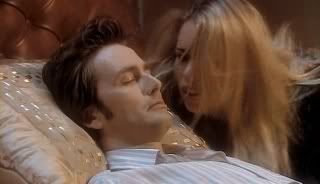 (Heh. How to make

dangermousie
happy: take an OTP, add a dash of h/c and a bit of off-kilter, and some good-old-fashioned she in danger can wake him from unconsciousness bit. And we are set).
( Picspam here )