Apologies. I realize that this LJ turned into
The Outsiders
zone lately. But I have gone mad for it the way I haven't for any drama since
Mars
. And I only have five and a half eps left so it will be over realtively soon :)
Also, because I don't want to scare people off watching it, it's angsty but not depressing in the least. So go watch! :)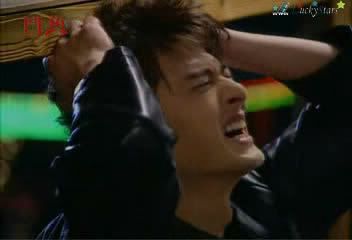 Thoughts on ep 15:
Oh Goddammit. I am barely five minutes into episode 15 and I am sobbing.
Stop doing it to me, drama. Because Ah Hao is completely drunk, and the annoying mainland girl goes looking for him and she finds him and asks if he is OK (lady, he is on the floor, crying. Chances are, no he isn't). And he is so out of it and so drunk that he actually sees her as Yu Yen and he starts saying Yu Yen's name and when he looks up at her and is all 'you've finally come, Yu Yen' and he is crying and smiling at the same time, like a temporary reprieve from hell, I...
GOD.
( Incoherent rambling on first half of ep 15 )
And here are screencaps. Why, yes, they are mainly of Dylan Kuo.
( Screencaps of ep 15 here )