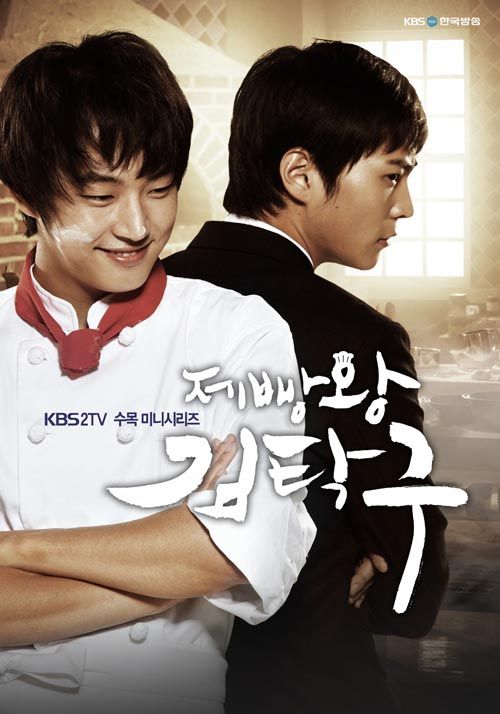 Unlike with most dramas I check out (where I decide to watch them based on my love for cast or production team, or alternatively interest in the story or excitement from previews), my motivation for checking out
Baker King Kim Tak Gu
was fairly peculiar - I wanted to see what on earth was in Baker in order to make a drama about the less-than-fascinating topic of baking rivalry and starring no-names, a crazy ratings hit (latest eps brought in close to 40%). Aside from

alexandral
, nobody I know was watching it which added to the mystique.
I have just finished the first 3 eps and I can see why it's popular - it's a crazy family saga which is very very easy to watch - I had no problem watching the first three eps (with judicious fast-forwarding) in one sitting. There is no spectacular acting, writing, direction, or cinematography - it is all very unspectacular, but it's not in any way intrusive - it's a very solid kind of mediocrity. A sort of "turn off your brain for a couple of hours a week" type of drama with some addictive elements mixed in.
If it reminds me of any drama it's
East of Eden
- only replace gangsters and revolutionaries with bakers and patissiers. Don't get me wrong - East of Eden, while flawed, was vastly superior to Baker - for one it had ambitions, for another the story was a lot more interesting, and there was some spectacular acting (Lee Mi Sook alone was a total powerhouse). More importantly, the stakes were greater (what's the worst that can happen in Baker? Someone gets food poisoning from underdone bread?) and I cared for characters - I want a drama to evoke a strong emotional response in me which Baker does not at all.
But the biggest problem for me is not any of that but a certain difference of perception between me and the drama - the one deal-breaker for me is when a drama wants me to view characters one way but I can only view them another (great example is Boys Over Flowers which demanded I see Jun Pyo as a worthy woobie and I only saw him as a selfish coward). And the problem is that the drama has certain premises I cannot accept - such as that the father is OK for sleeping with the maid (when his wife is in the hospital recovering from childbirth, no less) because that gives him a son he wants but the wife is an evil soulless bitch when she sleeps with another man to get a son (only after the husband does btw). Just as we are supposed to view the maid as saintly and wonderful but I can only look at her in disgust - she was fully into sleeping with a married man (there is no hint of him coercing her or anything). We are supposed to think Grandma is a great person, strict but just, even though she is completely heartless to her daughter-in-law because she produces only daughters (this obsession with male heirs makes me sick to start with, especially since the women themselves reinforce the fixation on the male heirs. SICK. Plus, hello, it's a male who brings the y chromosome to the baby, not the wife). After all, Grandma muses that servant would have made a great d-i-l because she has a great soul (read "made a boy"). Yeah right, old biddy! I don't care what kind of soul the wife had to start with, living with someone like you and her husband (who doesn't even bother showing up to see how his daughter is like) would turn anyone into a harpy. I mean, how dare she not be happy the living proof of husband's adultery and rival heir is moving in! How dare her kids not love the newcomer with all their might? And, of course, of course, the servant's son is a sweet saintly genius while the wife's son is an evil monster. Yeah, right. One of the things I loved about EoE is that it went against the whole 'blood will out' or 'blood is most important' belief in so many ways - the son of saintly union leader was brought up by a psycho and became a psycho himself (until his late-in-the-game redemption which still pisses me off). The son of the psycho was brought up by union family and became a revolutionary/helper/etc and, aside from his temporary trip to the dark side, ended the story as a good person. And it was clear in EoE that the protagonist, while he came to love his late-discovered blood brother, would always view the switched brother as the 'real' one and love him the most of his family (enough to die for him, in fact).
Baker, OTOH, has no desire to play with established (and patriarchal) notions - it reinforces them, in fact. (I won't even get into the fact that EoE had some amazing amazing female characters but Baker seems to split theirs into evil monsters and saints).
Basically, entertaining but not special. And not really my bag but I'll watch a few eps more to make sure. I can see why it's a hit though - it's pretty addictive for some reason.