If I was drawn by and in love with episode 1, by the end of episode 2, to say I was obsessed was an understatement. A lot of it is due to Jung Woo Sung - I don't remember the last time I felt such a degree of unthinking, fierce empathy for a drama character. Maybe Lee Byung Hun in IRIS? (Oh, that ended so well. Let's hope this will end better because I may not survive a repeat).
Everything about him gets me - his slightly alien way of looking at things (of course, this is the first time out in a normal world in 16 years), the way he reminds me of one of those giant dogs - friendly but cautious due to past mistreatment (interesting, as Han Ji Min's character shows open affection to animals the way she cannot to humans), the way he buries his anger and desperation and hopelessness under boisterous manner. The way he is with Han Ji Min.
Oh my God, the way he is with Han Ji Min. The chemistry, the writing, the height difference, the chemistry the chemistry the chemistry. Whenever the two of them together, it all sort of kicks into overdrive - I love how their interactions - awkward, uncertain, sometimes friendly and sometimes antagonistic - just ring true. My favorite scene in that ep was when they shared a fire in that abandoned house - the little moments got me: the way he looks at her neck (he hasn't been near a woman in a very long time), the way their hands touch when he peels the potatoes for her, the way she freaks when she realizes he's a former convict, just the awkward way they hold their bodies.
And of course that last scene (forgive me for crappy quality of the caps. As a sign of my insanity, I am now getting a 1.5 gb version so better caps coming).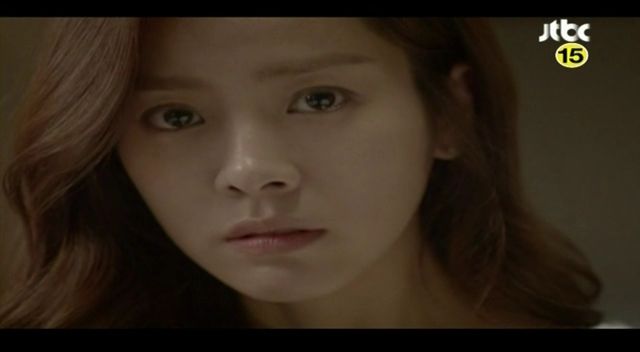 And of course, the mysteries are really getting me too - why did the DA kill that kid years ago? What is with Kim Bum? Is he really an angel? And why did he pick JWS to help - that brief little unmemory Kim Bum has looking at JWS on the bus, where he is picturing himself sitting by JWS' kid version - what is with that?
Also, am I getting it correctly? The kid who was JWS' friend and who JWS got framed for murdering was Han Ji Min's uncle? (Oh God, I hate HJM's Dad - pathetic, wife-beating freak).
Anyway, this is amazing. Beyond amazing.
If I could, I'd make everyone watch this.